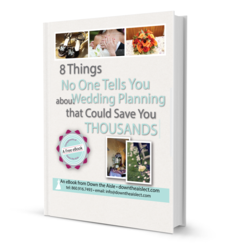 Vendors may not list the values of planned bridal luxuries in their offerings due to the many choices available for a person marrying
Litchfield County, CT (PRWEB) August 31, 2012
Down The Aisle Wedding Planning & Design, the wedding planning and bridal respite for the modern bride, presents timely and reflective details about the wedding and event presentation industry. Thinking about how and when a wedding will take place is actionable. Having structured information and making timely decisions is a little explored prerequisite and often a necessary extension of the planning process. Preparing for the benchmarks and the unexpected with events can be the distinction between prescient and lesser thought with wedding-planned design.
Persons may consider the two elements of wedding planning that require structure: fiduciary strategy and observation how the planning involves personal time.
Valuation may detail worth in lieu of available provision; Down The Aisle provides peace of mind and acknowledges the necessity of informed bridal planning independent of trend, including those "must haves."
"Most professionals offer complimentary consultations," says a spokesperson of Down The Aisle. "It's only after meeting someone face-to-face and reviewing their work in person, that brides-to-be queue a successful and beautiful wedding presentation."
Domestic or international with locales, price may be subjective with choice of consultancies; however precious mishaps and increasing expenditures of time, can be alleviated with reparative options. Down The Aisle relates with the real world experiences of today's brides, and they also understand that brides are busy.
"Vendors may not list the values of planned bridal luxuries in their offerings due to the many choices available for a person marrying," expresses Christine Ringuette, Lead Planner and Owner of Down The Aisle.
A wedding is a culmination of thought and invention. Keeping countenance fresh and remaining receptive to changes from predetermined expectations is important.
"For example, ideally, you should have your items such as your gown chosen at least six months before your wedding," explains Ringuette in the eBook.
Bridal goals can become aligned into a pleasant wedding perspective. A bride may devote rapt attention to particular items with planning while foregoing enjoying the experience of the complete wedding at hand.
"It's important to consider really what you are receiving for a service before just opting for a professional," Ringuette shares.
Reflective decisions are the profound design when planning a wedding remembrance. The choices can be effective and selected with verve with a professional planner of weddings assigned.
Down The Aisle, LLC is the premier wedding planner presentation providing informative and prescient wedding planning style for today's bride. Down The Aisle imparts the attentive and supportive details uniquely tailored toward instructive and reparative planning for individuals and industry. Persons interested in featuring with Down The Aisle should contact Christine Ringuette at +1.860. 916.7493 or info(at)downtheaislect(dot)com; Skype at Christine.Ringuette.