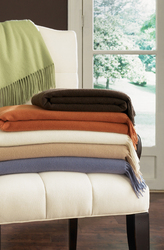 SOLACE_found envisions many of our visitors as catalysts for change, choosing sustainable alternatives when they present themselves, allowing them to be and remain active consumers, addressing global environmental issues
Oakland, CA (PRWEB) August 29, 2008
SOLACE_found introduces the luxurious, durable bedding linens and accessories of SFERRA and AREA that exemplify synergistic intent - enveloping solace into daily rituals.
Founded in 1891, SFERRA is undeniably one of the most exclusive names in superior quality home textiles. SFERRA's accessories offer their historical standard of excellence for the most discerning consumers of home bedding and bedding accessories. Their cashmere and wool blend throws, and beautiful petit point and damask pillows are all unsurpassed in the industry. SFERRA partners with superior Italian textile manufacturers who, for centuries, have been revered for their craftsmanship, allowing SOLACE_found visitors to savor quintessential spinning, weaving, embroidery and sewing.
AREA's bedding lines embody serenity. Their 100% organic cotton and natural linen collections exude simplicity and quality offering comfort with the consolation of long-lasting beauty. Their bedding can be beautifully accented with impeccably crafted linen pillows.
Historically, flax has been grown and woven into linen fabric since the Renaissance. AREA's pure linen - totally natural, anti-allergenic and lint-free - is biodegradable and durable. And their luxurious 100% organic cottons are SKAL certified, a certification and inspection body for organic production that is regulated by the European Economic Committee.
Sustainability - acquiring organic products, adhering to SKAL certifications and Oeko-Tex safety standards, utilizing LEED (Leadership in Energy and Environmental Design) design and construction, and investing in renewable energy - is of the utmost importance.
"SOLACE_found envisions many of our visitors as catalysts for change, choosing sustainable alternatives when they present themselves, allowing them to be and remain active consumers, addressing global environmental issues," says Carol Crossley.
As with all of the bedding items at SOLACE_found, fabric quality is key - from the quality of the fiber itself to the density of waft and weft. SFERRA and AREA epitomize that ideal.
Free ground shipping in the U.S. on any SOLACE_found bedding items can be enjoyed with SOLACE_found's current free shipping coupon code: SFSHIP08.
SOLACE_found originated with the idea of simplicity and quality, gathering bath, body and home products with proven, effective formulas to support and enhance one's well being, bringing comfort and consolation to the daily ritual of living in the world. Visit http://www.solacefound.com for additional information.
###