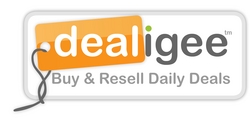 If you've ever stumbled upon a great deal at a site like Groupon, but weren't sure if you'd end up using it, dealigee takes away the risk of getting stuck with it
Chicago, IL (PRWEB) September 13, 2010
dealigee.com is a new free service that provides a safe, secure marketplace for users to buy and sell online daily deal vouchers from places like Groupon, LivingSocial, Tippr, DealOn and more.
"If you've ever stumbled upon a great deal at a site like Groupon, but weren't sure if you'd end up using it, dealigee takes away the risk of getting stuck with it" dealigee co-founder Michael Kersey said. "Selling an unused voucher on dealigee is simple. Just fill in the voucher details, set your price and wait for dealigee to close the deal or send you valid offers by PayPal validated buyers to choose from."
dealigee is currently available in Chicago, New York and San Francisco, with more cities on the way. Shoppers can purchase vouchers by clicking "buy it now" or "make an offer". Making an offer is a great way to score an even better deal, since the buyer can make an offer even less than the "buy it now" price set by the seller. Buyers should be aware that "buy it now" is the only guaranteed way to secure the deal.
dealigee avoids a long registration process by allowing users to sign up with their Facebook ID. Simply visit http://www.dealigee.com, click on the Facebook login link on the page and start the wheeling and dealing.
About dealigee.com
dealigee was created to provide its members with an easy-to-use, safe marketplace to buy and resell daily deals. dealigee is owned and operated by Chicago based Baazzu LLC. For more detail on how dealigee.com works, please watch the video or visit the FAQ page.
Media Contact:
Andy Narayanan
dealigee Founder
Email – andy(at)dealigee(dot)com
888-309-5637
# # #