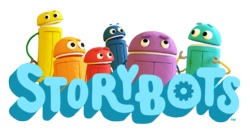 "We see how technology is radically changing the way kids engage with content in our own homes," said the Spiridellis brothers. "We want StoryBots to be the equivalent of Sesame Street for a connected generation."
Venice Beach, CA (PRWEB) September 27, 2012
Brothers Evan and Gregg Spiridellis, Internet pioneers and co-creators of one of the web's most recognized brands, JibJab, today announced the launch of their latest digital venture: StoryBots™, a multi-platform entertainment property for kids and parents.
The StoryBots are brightly colored, infinitely curious little creatures who live in the world beneath our screens (iPhones, iPads, computers, televisions). Their mission is to make learning fun for kids – and life easier for parents – by offering personalized eBooks, videos, activity sheets and more.
"We see how technology is radically changing the way kids engage with content in our own homes," said the Spiridellis brothers. "Our kids don't watch TV. They watch Netflix on the iPad. We're fired up to use technology not only to distribute children's entertainment, but to reinvent the storytelling formats themselves."
One of the ways the Spiridellis brothers are reinventing storytelling is with personalization. With a few clicks, taps or swipes, parents can upload a photo of their child and insert him or her into the center of the action, alongside the StoryBots, using the company's Starring You® technology.
StoryBots Starring You StoryBook s is a free iPad app that enables parents to create personalized, animated eBooks that include their child's name and face in the stories. Since it was introduced last year, Starring You StoryBooks has consistently been a Top 10 Grossing Book App on the iPad. The app comes with one free book, and parents can sign up to receive a new book every month for just $3.99. They can buy additional titles for just $1.99 each. Today, there are 18 books available with themes ranging from giant pizza and circus escapades to trucks and princesses.
StoryBots Starring You Band is a free video series on the web that allows parents to insert their kids directly into music videos and jam out alongside the StoryBots. Together, the child and the StoryBots sing and dance to a series of jazzed-up classic children's songs. There are 4 free videos available today with a new video scheduled each month.
In addition to Starring You® entertainment, parents will find much more available at StoryBots.com designed to make learning fun for the 2 to 6 year olds in their lives.
The StoryBots ABC Jamboree is a collection of 26 one-minute, foot-tapping music videos designed to help kids recognize the sounds and shapes of the letters of the alphabet. Parents too will appreciate the fun, hip take on these songs, and can download the MP3s such as "Hooray for A" or "B Is for Boogie", all of which are free.
The StoryBots Activity Center is a place on StoryBots.com where parents can download and print over 100 free coloring, tracing, mazes and word finds to – ironically enough – help get their kids off of the computer and back to the kitchen table with crayons and pencils.
The StoryBots Beep & Boop iPhone app turns learning good behavior into a game kids love, bringing old-school reward chart systems into the 21st century. Parents give kids BEEPs for good behavior and BOOPs as reprimands. Parents can use the app to create goals and prizes to motivate and celebrate their children's achievements.
"The BEEP & BOOP app is a good example of how we are building products for StoryBots," said the Spiridellis brothers. "We invented it for our own kids and then released it to the public in March. Since then, grown-ups in 89 countries around the world have given kids 150,000 Beeps and Boops!"
While the Spiridellis brothers are bringing the silliness that made them famous in political circles to the kids' market, it is more than just fun and game for the brothers -- It's serious business.
Over the past 13 years, during an era of economic uncertainty, the brothers have grown JibJab from its roots in a Brooklyn garage to a flourishing enterprise with 43 full-time employees in Venice Beach, California.
"Our vision for StoryBots is to build hundreds of products in the coming years that kids will love and parents can feel great about," said the brothers. "We want StoryBots to be the equivalent of Sesame Street for a connected generation."
Brothers, Co-Founders, Entrepreneurs, Husbands and Dads, Evan and Gregg Spiridellis are available for interview.
About JibJab
JibJab is in the business of making things that make people laugh. From political satires like THIS LAND, to personalized Starring You® videos like OfficeMax's ElfYourself, JibJab has been creating world-class online entertainment since 1999. With the audacious goal to make billions of people happy, the company has recently focused its cutting edge creative and production leadership on the children's learning and entertainment market with the launch of StoryBots™. To learn more, visit Blog.JibJab.com/About or StoryBots.com/for-parents.
About StoryBots
StoryBots is a new multi-platform personalized educational property for kids! Created by Evan and Gregg Spiridellis, the digital entertainment pioneers who created the global internet craze JibJab, StoryBots are brightly-colored, perpetually positive little creatures who live beneath our screens and make learning fun for kids -- and life easier for parents!
JibJab®, Starring You!®, Beep &Boop™ and StoryBots™ are trademarks of JibJab Media Inc. in the United States and other countries. The names of actual companies and products mentioned herein may be the trademarks of their respective owners.
CONTACT:
Genna Rosenberg
GennComm
818-839-1461
genna (at) genncomm (dot) com
Laura Bartlett
JibJab
310-314-4375
laura (at) jibjab (dot) net