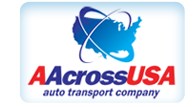 A Across USA auto transport company is now offering complimentary quotes for their first class car shipping services at (800) 243-0066.
Jacksonville, FL (PRWEB) January 27, 2014
When planning a long trip or a cross-country move, thinking about vehicle transportation is undoubtedly one of the most stress-inducing parts... but it does not have to be. A Across USA is one of the most trusted names in vehicle transportation. With unparalleled customer satisfaction, experience and the most dedicated staff, the team is able to take the stress and anxiety away from auto transportation. Whether a person is traveling across the country or a few states away – A Across USA can handle it all. The team will go the extra mile to ensure that every client enjoys an affordable and professional experience. The company can handle a one-time move as well as moving fleets of cars on an interstate or state to state basis. The team offers car hauling and car carrier services to move vehicles across the country at competitive and affordable prices. A Across USA is now offering complimentary auto shipping quotes at (800)243-0066.
A Across USA has been meeting vehicle transporting requirements for families, companies, the US Military, motor vehicle dealers, moving companies, leasing companies and government agencies for years. As one of the most well-known vehicle transportation companies in the United States, they provide the premier service that is cost-effective, dependable, and reliable.
Working with more than 1,000 pre-checked and pre-screened vehicle carriers in every station, they create stress-free vehicle transportation for every individual. "[We used A Across USA for] the shipment of a car we purchased in Florida. The car was picked up within 2 days and arrived at our home in Connecticut 5 days later (despite a major snowstorm I might add)," said P. Turton of Connecticut, an A Across USA customer. "So in one week, the order was taken, pick up made, and delivery made. Awesome service and the driver was extremely thorough in his inspection and very courteous. [We want to thank the team for] making our first auto shipment experience a pleasant one." The company boasts countless testimonials from clients nationwide that have had beyond pleasant experiences with A Across USA.
The Family owned and operated vehicle transport company has created an environment that is affordable, dependable and reliable. When moving cross country or even going on a temporary work trip – the last thing any person needs is the added stress of car shipping. Working with the dedicated, friendly, and committed staff at A Across the USA takes worry and anxiety out of auto transportation. Log on to aacrossusa.com today to learn more about just how easy it is to transport any vehicle this year.