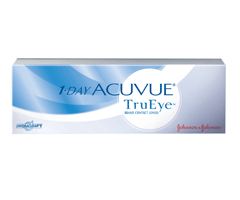 For those who wear lenses and wish to drop-out due to discomfort we may now find some hope in the TruEye contact lenses.
(PRWEB UK) 30 May 2013
A study published in the Contact Lens & Anterior Eye journal evaluated the performance over 12 months of the 1 Day Acuvue TruEye lenses. The performance of these daily disposable Acuvue contact lenses were tested against 6 areas of eye health relating to eye redness and any types of corneal reactions – all showing positive results. No significant effect was found on the surface of eyes compared to non-contact lens wearers.
Practitioners assessing a total of 74 subjects over a 12 month period engaged in a randomised parallel study comparing those who wore spectacles with new contact lens wearers. Comfort was assessed through text messaging and the results were statistically similar in both groups.
The results of this study are important as many people suffer from irritation and dry eyes with contact lenses. A contact lens that could reduce this would most likely reduce drop-out rates. For those who wear lenses and wish to drop-out due to discomfort we may now find some hope in the TruEye contact lenses.
New generation contact lenses often contain silicone hydrogel material to allow oxygen to be transported at a greater rate through the lens and allow them to breathe better. The silicone hydrogel contained in the Acuvue 1 Day TruEye is called narafilcon A and the study concluded the lenses are able to exhibit minimal alterations to ocular physiology and describing it as an "excellent, comfortable form of vision correction".
So how to get your hands on the 1 Day Acuvue TruEye? These daily contact lenses are supplied by many retailers. However, anyone who wishes to try them should consult their opticians first to see if the contact lenses are suitable for them. Optometrist of online retailer contactlensmail.co.uk, Kishan Devraj says "silicone hydrogels are a great choice for those who want to get the most out of comfort with contact lenses. However, those who buy contact lenses online must do so from registered and accountable places where you can enter your own optician's details. This means the online company can contact your optician to ensure they have your best interests at heart and send the correct lenses for the safety of your eyes".
The original study, Ocular physiology and comfort in neophyte subjects fitted with daily disposable silicone hydrogel contact lenses can be read here.