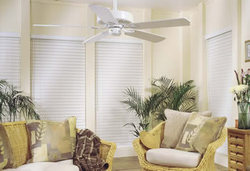 Made in 1 Day, or Free
Gilbert, AZ (Vocus) October 30, 2009
Select Blinds announces "Made in 1 Day, or Free" program.
Select Blinds, in its continuing quest to exceed customer expectations, offers a "made in 1 day or free" program on 10 products!
With the holiday season just around the corner, SelectBlinds.com has committed to produce custom made window blinds and custom made window shades in 1 day. The Select Blinds CMO & Founder, Rick Steele, is so confident that they can achieve this that he is putting his money where his mouth is. Mr. Steele announced that if they fail to do so, that window blind or window shade will be yours for free. And to take the company's commitment to being the best place to buy window blinds and window shades on the Internet, there are no exclusions on these 10 blinds products. They will make them in one day, even if customers load up on the options.
Mr. Steele felt that if SelectBlinds can do it for ABC, then they can do it for every customer. SelectBlinds products are seen weekly on the ABC hit TV show, Extreme Makeover: Home Edition. Mr. Steele works with the show's producers each week to ensure that the window coverings are delivered in time for the reveal. That can only be accomplished by making the custom blinds and shades in one day.
The 10 window blinds and shades are:
1. 2" Designer Basswood wood blinds. These are the most popular wood blind offered at SelectBlinds.com.
2. 2 1/2" Designer Basswood wood blinds. In the same family as the 2", the larger slats add even more richness to a room.
3. 1" Designer Basswood wood blinds. The 1" slats are perfect for French doors, and coordinate with the 2" and 2 1/2" Designer Basswood blinds.
4. Woven wood shades. These beautiful and unique shades will transform the look of any room.
5. Basic Woven Wood shades. A great place to start your woven wood shopping experience.
6. Bamboo Shades. Yet another exotic shade option.
7. Earth Art shades. An eco friendly, beautiful shade.
8. Sheer Weave 3000 Shades. Excellent light control window shade.
9. Designer Natural Wood Shades.
10. Earth Art roller shades.
Select Blinds, real solutions for every customer. Gimmicks not included.
About Select Shops owner of SelectBedding.com:
Headquartered in Gilbert, AZ, Select Shops owns the Web's leading destinations for ready-to-install and custom-made home fashions, including SelectBlinds.com, SelectRugs.com, SelectFans.com and now SelectBedding.com. SelectBedding.com, provides a tremendous variety of bedding options. All of Select Shops Web sites offer competitive pricing, convenience, secure online shopping, live assistance, customer satisfaction guarantees and strong warranty programs on all of its products. For more information, please visit http://www.SelectShops.com .
###