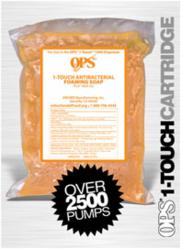 The newly introduced cartridges add a phenomenal 14 times the volume to our OPS skin care products by changing it to a rich foam. The clinging foam spreads more evenly for a more effective application. - Andrew Werth, Archer Manufacturing
San Francisco, CA (PRWEB) November 28, 2012
Archer Manufacturing produces the highest quality, durable, and vandal proof soap dispensers on the market. Today they have announced the introduction of high yield refillable soap cartridges for use in their OPS® 1-TOUCH™ hand soap dispensers. Their OPS high security 1-TOUCH™ Soap Dispenser is designed to be vandal proof and is recommended for use within all business and institutional settings.
Company spokesman Andrew Werth, VP of Marketing for Archer Manufacturing said, "The newly introduced cartridges add a phenomenal 14 times the volume to our OPS skin care products by changing it to a rich foam. The clinging foam spreads more evenly for a more effective application."
According to a hygiene study performed at the University of Colorado and posted on the FDA website, after introducing hand washing and sanitation awareness, illness rates dropped by a staggering 20%. http://www.fda.gov/ohrms/dockets/dailys/03/Sept03/090203/75n-0183h-c000075-att-14-vol154.pdf
In another article published in the Wall Street Journal this year, "At a 30-employee firm that pays an average of $10 an hour, the cost of providing seven paid sick days could amount to roughly $18,700 a year, including payroll taxes." http://online.wsj.com/article/SB10001424052970203986604577253550802792104.html
This means that just encouraging hand washing could result in a saving of $3,740 a year. Of course, this would be a much larger saving for larger firms or facilities.
Hand washing with a powerful antibacterial soap could reduce illness even more. According to Andrew Werth, "Our OPS AB antibacterial soap kills 98.2% of MRSA in just 30 seconds! It kills 99.99 to 99.999% of most other germs in 15 seconds." This means that the soap may kill most of the germs that cause illness. This is especially beneficial to schools, restaurants and any employer who wants to protect both employees and customers from unnecessary exposure to illness while minimizing expensive sick days.
Archer Manufacturing's OPS AB is an Antibacterial Foaming Soap used for hands. This specially designed formulation was created using a perfectly balanced formula combining hand-soap with a powerful antibacterial agent. It also contains a highly effective surfactant that moisturizes and conditions the skin leaving it soft, smooth, and refreshed after washing.
In a prior company press release published in August Werth states, there are a lot of other soap dispenser products out there, but Archer Manufacturing's product is the only truly vandal proof soap dispenser on the market. Mr. Werth goes on to say, "The 1-TOUCH™ Foam Hand Soap dispenser is kick proof, punch proof, and knife proof. We warranty it for 5 years."
The 1-TOUCH™ foaming hand soap dispenser is durable and armored in an attractive industrial strength 14 or 16 gauge brushed stainless steel casing. It is compatible with 4 different soap products, all manufactured by Archer: Eco Green Hand Soap, OPS Hand Hair and Body Wash, Instant Hand Sanitizer, and the powerful OPS AB Antibacterial Hand Wash. Each soap product is contained in hermetically sealed disposable soap cartridges. The soap cartridges prevent bacteria from growing inside the soap and are extremely economical. Each cartridge yields over 2500 hand washings!"
For more details about the OPS 1-Touch dispenser and their line of high yield soap cartridges please visit: http://www.vandalproof.org/soap
About Archer Manufacturing
Archer Manufacturing is the foremost leader in providing the world's only 100% Vandal Proof Soap Dispensing System. A national corporation, Archer Manufacturing has been selling security dispensers for over a decade – as well as a variety of premium soap products including: Eco Hand Soap, Hand Hair and Body Wash, Antibacterial Soap, and Instant Hand Sanitizer. Their signature vandal proof dispensers are lockable and encased in an attractive industrial strength 14 or 16 gauge brushed stainless steel casing for enhanced durability.
All OPS®1-TOUCH™ dispensers come with a 5-year warranty against vandalism and can be paired with any of the 4 aforementioned soap products. All soap products come in high-yield, hermetically sealed cartridges, which increase dispenser sanitation and eliminate bacterial contamination. Archer is especially proud of their new OPS AB Antibacterial Hand Wash, which kills an incredible 98.2% of MRSA in just 30 seconds and 99.99 to 99.999% of most other germs in 15 seconds.