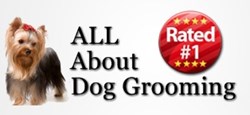 Learn to Groom's DVD Dog Grooming Course helps entrepreneurs launch their own dog grooming business. Full details are available online at www.learntogroom.com
Los Angeles, CA (PRWEB) October 16, 2013
Pet grooming is a $62 billion dollar industry that has taken the country by storm. Americans treat their dogs as loving members of their community. Learn to Groom is a revolutionary new company that creates a forum for entrepreneurs willing to take the leap into the lucrative world of dog grooming and start a dog grooming business. Learn to Groom's accessible and detailed manual provides every element imaginable to supply a future groomer with the confidence and capability to take control of their future career.
The company's strategic and detailed dog groomer course called "All About Dog Grooming" provides 8 hours of teaching by DVD, which is composed of grooming over 30 breeds. Learn to Groom's team offers free one on one counseling and a certificate upon completion of the course. The "All About Dog Grooming" course is currently offered at a discounted rate of $249.95. Many graduates of Learn to Groom's incredible course have established their own lucrative and fulfilling grooming business.
Husband and wife, Richard and Carol Doggett established their dog grooming business in 1975. While most groomers laughed at their venture to develop a grooming unit, their business has now climbed to great heights beyond their expectations. Their expertise has translated into the Learn to Groom educational tools. By logging on to the easy-to-use websites, prospective groomers can learn the ins and outs of dog grooming tools along with the unique opportunity to purchase a dog grooming DVD. The DVD expands on the process featured in Learn to Groom's manual. The visual step by step process will show that by learning these new skills anyone can create a business that will benefit themselves and their family. Among the many grooming skills learned in the course are brushing, de-matting, bathing & dipping, blow drying, coat conditioning, ear plucking, eye care, anal glands, and nail trimming.
Mary in Tennessee wrote this personal letter to Mr. and Mrs. Doggett, thanking them for the amazing opportunity to learn dog grooming by Learn to Groom' dog groomer training. "I am a former student of your home study course. I took your course in 2001 and worked my business part-time for about 5 years. It just wasn't the right time to start a full time business for me but I continued to groom a few dogs here and there. Five years ago I was laid off from my job and decided to start my grooming business as full-time career. I just wanted to let you know that after the first year my business grew 300%. I enlarged my grooming shop to a beautiful salon complete with a small retail area. (I converted my garage so I didn't have overhead and I could stay at home.) I have over 200 customers and employ a prep tech."
Nothing is more fulfilling than creating a business from the bottom up. Learn to Groom is the only place where anyone with a will and a dream can learn the skills necessary to achieve a successful business through many simple and easy steps.
For more information, log on to: learntogroom.com