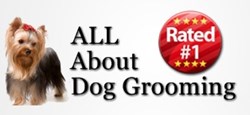 Learn to Groom is offering $50 savings and a free gift when new customers place a new order at http://learntogroom.com.
Los Angeles, California (PRWEB) October 06, 2013
Learn to Groom is a dog grooming course like no other, offering opportunities for self-employment and unparalleled success. Dog lovers looking for a way to break into the pet industry can receive expert training and be ready to make big bucks in just a matter of weeks.
As part of the course, Learn to Groom teaches its customers how to start a dog grooming business as well as bathe, clip, and style more than 30 popular dog breeds. The complete dog groomer course offered by Learn to Groom comes with a study manual, one-on-one coaching, and training with Learn to Groom staff supplied on eight hours of Dog Grooming DVDs and a certificate of training. While they learn dog grooming, customers can also enjoy low prices at Learn to Groom. In addition to saving $50 when customers place an order, they will also receive free Learn to Groom reference wall charts.
Learn to Groom also offers a detailed training manual that contains information about grooming a variety of breeds as well as starting a dog grooming business via three different business plans. The Learn to Groom manual covers pet health, how to control and handle dogs, working with special needs dogs such as puppies and elderly dogs. Also in the training manual are chapters on business planning and equipment needed as well as well as maintenance of the equipment. Learn To Groom also offers a separate training course that customers need to know to be successful at their own mobile dog grooming business.
Learn to Groom offers one-on-one, lifetime assistance in the event customers have questions or need support in their new endeavor. There is also a conditional 100% guarantee when an order is placed at LearntoGroom.com. Customers may also enter to win a free cordless pet trimmer by entering their name and email address online at LearntoGroom.com.
Information about the training manual, DVD series, services and products is available at Learn to Groom's web site or by calling (888)800-1027.