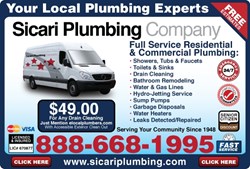 Sicari Plumbing is now offering clients convenient flat rate pricing on professional plumbing services in Pasadena and the entire Los Angeles area.
Pasadena, CA (PRWEB) October 09, 2013
Surprises are great for special occasions, but they are the last thing any homeowner wants to see when it comes time to be presented with a bill for a plumbing service call. Surprises never happen with service and repair calls with Sicari Plumbing, the number one Pasadena plumbing contractor who is now offering convenient flat rate pricing.
Sicari Plumbing Company takes the guess work out of hiring a Los Angeles or North Hollywood plumber with its policy that guarantees that the job contracted for will be completed to the customer's satisfaction for the quoted price. Sicari Plumbing pledges that all service calls will be hassle free with the best prices in town throughout Southern California. Sicari plumbers are always on time for scheduled appointments for all service and repair calls, copper re-piping, and remodeling jobs. Sicari Plumbing customers always know up front exactly what their bills will be without any hidden costs or add-on expenses that typically pop up as a plumbing repair calls unfold. Sicari Plumbing quotes the price of the job before its fully licensed journeyman plumbers begin work, and home and business owners reap the benefits of their guaranteed low costs.
Sicari Plumbing is currently offering a number of specials for customers who schedule appointments on line at http://sicariplumbing.com. In addition to Sicari Plumbings' already guaranteed low prices, customers can also redeem online coupons such as a free $95 water heater flush with every service call, a free $250 value for a camera inspection with every main line snaking, and a special 15 percent discount on service calls over $200 with the mention of an online coupon. Other discount specials include $49 for drain cleaning, $159 for a ½ HP garbage disposer, and $150 off water heater installations.
Sicari Plumbing's reputation as a leading contractor has been built on its record for quality, guaranteed work, expertise in all areas of plumbing, guaranteed 24-hour service, and professional customer service for more than 30 years.
Sicari Plumbing serves customers in the San Gabriel Valley, Pasadena, San Fernando Valley, and [Santa Clarita areas. Their customers save money and stress when they call for a Pasadena plumber, Burbank plumber, Canoga Park plumber, Glendale plumber, North Hollywood plumber, Sherman Oaks, plumber, Saugus plumber, [Tarzana plumber, Valencia plumber, or Woodland Hills plumber.
Sicari Plumbing's has earned an A+ Better Business Bureau rating as a Pasadena plumbing contractor who guarantees prompt, efficient service and goes far beyond simply fixing leaks and drips. Owner Joe Sicari is a firm believer in keeping up with all of the latest trends, developments, and products in the industry, and his plumbers are constantly receiving training to remain on the cutting edge, ahead of the competition with the finest state-of-the-art technology and equipment.
Customer service is the highest priority at Sicari Plumbing, where customers are able to conveniently set up service calls to meet their schedules by telephone or online for any type of plumbing repair, service, or installation at guaranteed, up-front money saving prices. Residential and commercial service calls can be set up to meet the customer's schedule 24/7, either online at http://sicariplumbing.com or by telephone at (888) 668-1995.
One of the trademarks of Sicari Plumbing is its commitment to staying in front of the competition with its state-of-the-art technology, training, and investment in the services and equipment that make a difference for customers. "Sicari Plumbing has not stood still in its 30 year history," owner Joe Sicari says. "We continually reinvest in ourselves, both in training and technological innovations that keep us in the forefront of the plumbing industry. Sicari Plumbing has become sewer and drain specialists with equipment like in-line cameras and locators, Hydro-jetters and more. You can actually see the problem within your pipe. The ability to pinpointing the exact location allows us to diagnose more effectively.
"Trench-Less technology allows us to replace your old sewer line, which eliminates all cracks, leaks, holes or roots that may be causing you trouble, without damaging driveways, landscapes, or sidewalks, saving you thousands of dollars in added repairs. Our Hydro-jetter allows us to clear stubborn grease stoppages with water pressures of over 3500 psi, leaving your drains clear and trouble free for years to come."
Complete details of all Sicari Plumbing Company services and fees can be obtained by calling (888) 668-1995 or (818) 353-8557 or by visiting the company's website, http://sicariplumbing.com.