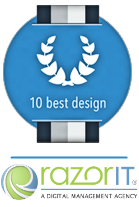 Syracuse, New York (PRWEB) June 14, 2013
In its June awards for the best in web design, 10 Best Design ranked RazorIT in 5th position in the overall best design category. 10 Best Design have assessed, analyzed and compared the best design agencies from across the country using a unique method to examine their abilities and strengths, resulting in a comprehensive overview of the industry's best.
The knowledgeable team at 10 Best Design comprises experts in the fields of website design, search engine optimization and online branding. The depth and breadth of expertise possessed by the judging panel results in extremely high expectations of and demands on the companies contending for inclusion in the ranked lists. This is why the awards are so very highly thought of. They bring together the individuals and companies who are pushing boundaries and leading the way in web development. So receiving an accolade from 10 Best Design really is a hallmark of excellence in the web design niche.
The awards are presented on a monthly basis and the winners are decided through a complex system of analytical review. Factors indicating the skills of a certain web design company are taken into account in order to generate lists of the best design agencies. These factors include online and client research, reviews (giving an idea of client satisfaction) SEO data and other ranking information as well as website traffic data. Ranking points are awarded on the basis of these areas of interest. 10 Best Design developed a comparative algorithm which takes these ranking points and works out which design firms are considered the best overall.
RazorIT emerged from the most recent round of country-wide analysis in 5th place. RazorIT is a web design agency which has the whole concept of web presence and strength in mind when dealing with a company's brief and unique set of demands. In fact, it would perhaps be more accurate to call it a digital consultant agency. Its central tenet of "We don't build websites, we build businesses" indicates that creating a whole, comprehensive digital package for a business is their goal. Considering elements such as video marketing, pay-per-click advertising and social media marketing shows not only the rounded service RazorIT wishes to give its clients, but also the forward thinking that makes this possible. Their service is at the forefront of providing internet businesses with the digital tools to move forward in the digital age.
10 Best Design is very discerning in handing out its awards and generating its lists of agencies recognized for excellence in their particular niches. Awards are not only presented in the overall category but in industry-specific lists as well, giving the listed web design firms unparalleled exposure to a new client base. And companies who did not feature this month and who consider themselves to provide the best in web design, can submit their details to 10 Best Design in the hope of being added to their exclusive directory of the best design agencies in the country.