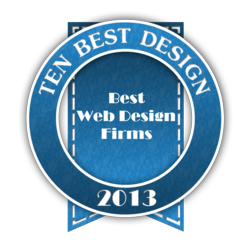 San Diego, California (PRWEB) June 03, 2013
10 Best Design is an organization which values the art of web design. They first began when their founders noticed that web development companies were failing to live up to the name 'web design'. The creators of 10 Best Design believed that there was a major discrepancy between the technological and artistic capabilities of Web2.0 & HTML5 and the sites being created around the world. They felt that many companies were leaving the 'design' out of 'web design'. As a result, they began to compile rankings of the top web design companies in the world, and today they have yet again released the awards of the overall best design firms.
Since its inception, 10 Best Design has grown from a well-crafted list of top industry performers to the premier web design rankings and awards organization for the best design companies. In fact, 10 Best Design now releases awards in a number of specific categories of web design, including rankings such as the one for eCommerce Web Design Companies.
This month, in addition to the new awards for the Best eCommerce Web Design Companies awards, the awards to the Overall Best Design Companies has been released.
The #1 provider of the best design this month is Clikzy Creative. Although they have received recognitions from other awards organizations in the past, Clikzy has won its very first 10 Best Design award. It has ranked as the Best Design Firm for its modern designs and layouts. Clikzy is a highly regarded web design firm out of Alexandria, Virginia which has been mentioned by name in publications such as Smashing Magazine, SEOmoz, Inc. Magazine, and Computerworld.
The Creative Momentum has made yet another appearance on 10 Best Design. This best design agency has ranked in the top companies multiple times. They produce aesthetically stunning and captivating designs for their many clients. The Creative Momentum is located in Atlanta, Georgia.
The complete list of the Best Design Firms is as follows:
1. Clikzy Creative (Alexandria, Virginia)
2. The Creative Momentum (Atlanta, Georgia)
3. Hudson Horizons (Saddle Brook, New Jersey)
4. Vento Solutions (San Francisco, California & New York, New York)
5. RazorIT (Syracuse, New York)
6. Second Story (Portland, Oregon)
7. Kohactive (Chicago, Illinois)
8. Cofa Media (San Diego & Los Angeles, California)
9. Artropolis (Minneapolis, Minnesota)
10. Skuba Design (New Orleans, Louisiana)