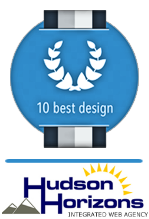 Saddle Brook, New Jersey (PRWEB) June 12, 2013
In its most recent round of awards, 10 Best Design has again published its list ranking the best web design firms in the country. According to the professional consultants at 10 Best Design, the design firms that make it onto their monthly award lists have demonstrated their prowess in the field of web design and development. These best design awards have developed a reputation and are eagerly sought after by the very best design firms right across the country. They are becoming a hallmark of excellence and an accolade by which the best design is recognized.
In the number 3 spot for the month of June in the overall design category, 10 Best Design placed Hudson Horizons, a firm based in Saddle Brook, New Jersey. For over ten years, Hudson Horizons has provided its clients with an outstanding service, meeting their needs to create a strong online presence. The number 3 company incorporates web design, search engine optimization and search strategies into its development process, delivering a result to clients which is strong across the board. Hudson Horizons really value their customer service and work according to this ethos has strengthened their reputation as a leading provider of ebusiness solutions. They have also embraced the revolution in social media and consider this carefully when carrying out all of their clients' web development projects.
10 Best Design analyzes all of the web design and development firms in their directory using a unique analytic review system. This system awards ranking points to each company according to the firm's performance in various areas key to success. These key areas, as identified by 10 Best Design, include online and client research (to establish customer satisfaction) the number of website hits, SEO data and reviews. After ranking points have been awarded in each area, the companies can be ranked overall to reveal as accurate a list as possible.
Initially, the design firms are compared with like in industry specific lists. They are also ranked to find the very best in overall performance. This analytic review system gives the consumer a very reliable picture of a given firm's performance and can help in their selection of a design company to meet their needs. No wonder that companies are keen to be included in 10 Best Design's deliberations with the potential national acclaim and exposure to a new client base.
Indeed, more and more web design and development firms are submitting their details to be considered for the awards. When 10 Best Design receives an application, they conduct research to determine if the company merits inclusion in the directory. Only after this scrutiny is the firm eligible for the awards. Using such a process of selection only reinforces the value of the awards and underlines why they are believed to be a real indication of a design company's abilities.