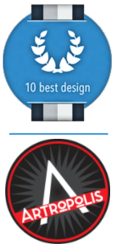 Minneapolis, Minnesota (PRWEB) June 20, 2013
When trying to find the best web design agency for your needs, the task can be more than a little daunting. With the explosion of the internet as a virtual arena for information, communication, commerce, advertising, promotion, entertainment (and the list goes on) a weak web presence can undermine the efforts of any business. So 10 Best Design has made identifying top companies easier by publishing its list of the top ten best web design firms across the country.
10 Best Design comprises a team of experts when it comes to web design and development. Through their extensive experience and knowledge of the field, they present awards to the companies they judge to provide the very best in web design. With so many different firms to compare and so many elements to consider, a sophisticated system of review is needed to create ranked lists which are meaningful. In order to do this, 10 Best Design employs a complex algorithm which takes ranking points given to the companies in contention in a variety of areas (website traffic, SEO ranking, client and online research) and then generates the list of the ten best web design firms in an overall sense. Lists are also generated for similar websites in the same industry or market niche, including entertainment, architecture, food and beverage and automotive.
In its latest round of award-giving, 10 Best Design identified Minneapolis based firm Atropolis as the 9th Best Web Design Agency. It began its successful journey in web design in 1994 and has been providing its clients with strategic website functionality ever since. With function and results as the driving force behind its work, Atropolis has become widely renowned for creating very effective ecommerce websites with proven track records in converting visitors to buyers. Yet, this emphasis on function does not compromise the visually engaging nature of their work as aesthetic is also a powerful tool in web marketing. Atropolis is accustomed to receiving awards for its work, and it has featured in 10 Best Design's search for the overall best web design agency for the last four consecutive months. Offering their clients a fully integrated approach to creating a strong and web presence, Atropolis includes video production, brand and logo design and development as well as the more conventional areas of search engine optimization and . Their philosophy of "we succeed when you succeed" is a testament to the confidence Atropolis has in its abilities as one of the best web design firms.
10 Best Design is beyond qualified to present accolades in web design and development. Its team has real expertise in areas like visual and technical web design, search engine optimization and online branding and this makes their verdict in identifying the best design agency very influential. 10 Best Design keeps its directory of companies up to date by inviting firms who consider themselves worthy to be recognized as one of the best web design firms in the country, to submit their details via the 10 Best Design website.