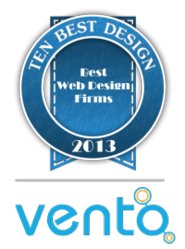 At 10 Best Design, we're trying to find the companies who strive to continue improving.
San Diego, California (PRWEB) May 10, 2013
10 Best Design is the top organization for web design awards and rankings. It has been awarding the best web design firms from around the country, and this month they have once again chosen Vento Solutions as the best web design firm of the month.
10 Best Design first began when its founders noticed that a significant number of websites being produced by some of the larger web design firms looked as though they had been developed in the 1990s. They vowed that they would find a way to bridge the divide between the technological capabilities of Web2.0 and the websites being sold by today's web design companies.
"On one hand, we have the best web design firm who stays up on new techniques and trends," says a 10 Best Design representative. "On the other, there are development companies who rake in huge sums of money for mediocre work … At 10 Best Design, we're trying to find the companies who strive to continue improving."
This is not the first time that Vento Solutions has been named the #1 best web design firm. Last year, this agency was ranked the best overall company by 10 Best Design, and in fact, The-Top-Tens.com named Vento #1 of the "Top Ten Best Web Development Companies" as well.
Vento Solutions is the best web design firm because they know how to combine stunning and crisp graphics, advanced web technologies, and an artistic sense that stands apart from most other web development companies.
The majority of their websites include responsive design, CSS3, and other HTML5 technologies. Vento Solutions is based in New York City with a search engine optimization and online marketing office in San Francisco.