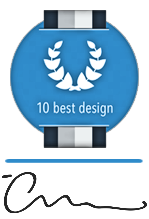 Atlanta, Georgia (PRWEB) June 11, 2013
Websites in different industries are considered separately by 10 Best Design in category awards. Examples of these include automotive, food and beverage, fashion and nonprofit. But winning websites within these niches are also ranked overall to list the top best web design company generally. 10 Best Design uses a specially developed ranking system in order to review these sites and generate its lists. Factors such as website traffic, SEO data, client and online research are all taken into consideration. Given the unique nature of the ranking system, these awards are highly thought of and are quickly becoming a benchmark of success in the field of web design and development.
In the most recent round of awards for best web design company for the month of June, 10 Best Design ranked The Creative Momentum in the number 2 spot. Based in Atlanta, The Creative Momentum is a company which creates a strong web presence for their clients by responding to their briefs with innovative and inventive concepts. A client's project begins with a process of consultation and in-depth planning, grows via creative design and development, and culminates in a full and defined presence in the online theatre. The technological solutions they produce are tailored directly towards the client's needs, and demonstrate their intuitive understanding of how important up-to-date representation is in the marketplace. One aspect of their service in particular shows this, and that is their awareness of web design specifically for mobile devices. The Creative Momentum has its finger on the pulse of today's internet user and the most popular methods of access, notably the developing phenomena of smartphones and tablets. As such, the company can translate a client's brief into a web service which fits well into the current technological landscape.
In their search for the country's best web design firm, 10 Best Design selects candidates from its extensive directory, so a company must first be part of this before being eligible. Web development companies who believe their work qualifies them as being amongst the best in the country can make their applications to appear in the directory and be considered for the awards. The very best in web design therefore appears on 10 Best Design's radar and they can use their vast wealth of experience to determine whether each company merits recognition in the form of an award. With such a rigorous process of analysis and selection, the winners of the 10 Best Design awards epitomize real excellence in the field of web design.