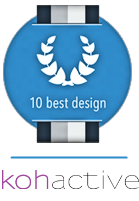 Chicago, Illinois (PRWEB) June 18, 2013
Web design and creative development is a field where expertise and knowledge are much in demand. Every business needs a strong online presence to be commercially successful and to reach their maximum potential. Fortunately, there is no shortage of talented individuals and companies out there ready to provide their innovative services. Figuring out which are the best web design firms and which companies produce the best web design for their clients, however, is not a simple task. 10 Best Design identifies the strongest firms and decides which of them, from right across the country, should be on top.
10 Best Design publishes top ten lists in the field of web design after conducting a comprehensive analysis of the services offered by companies from all over the country. From website traffic data to client research and from search engine optimization to reviews, 10 Best Design collates this information and compares how different firms perform in different areas. Ranking points are given for the many different factors which contribute to the creation of a successful website, some of which were mentioned above. On the basis of these scores, 10 Best Design is then able to produce an accurate picture of how well the firms perform compared to one another, deciding who will receive the accolade of featuring in the top ten best design firms.
In the most recent round of awards, Chicago based creative digital design agency Kohactive was ranked 7th in the overall best web design category. Kohactive is a forward-looking and forward-thinking design agency providing its clients with innovative solutions to their digital needs. The team at Kohactive embraces challenges and uses them as opportunities to move their skills and expertise forward. They have responded to the social media revolution which has grown with almost exponential momentum in recent years, designing applications for smartphones and all manner of digital devices with internet access. Kohactive anchors their work in the experience a customer or user will have and uses this to drive a project's direction. Their highly strategic and logical approach combined with insatiable creativity have come together and created some exceptional results for their clients.
Such a detailed overview of the best web design firms is made possible by the highly experienced and knowledgeable team at 10 Best Design. The panel of experts involved in assessing the web design companies is made up of industry specialists in web design, online branding and search engine optimization. They really understand the developing marketplace of web design and know what they are looking for when searching for the pioneers and leaders in the field.
With such a distinguished and qualified group of people leading the search for the best web design companies, it's not surprising that the 10 Best Design awards are quickly becoming recognized as the awards to receive. The unique way in which 10 Best Design is able to compare different firms and their performance so effectively is surely why their awards are becoming an endorsement of the quality new clients can expect.