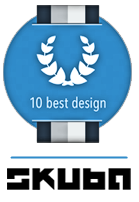 New Orleans, Louisiana (PRWEB) June 21, 2013
In its latest round of presenting awards to identify the ten best web design firms in the country, 10 Best Design has once again used its expertise in and knowledge of the field to recognize excellence. With a team of industry specialists assessing and comparing the best web design firms, the awards given by 10 Best Design are proving to be a recommendation of the highest quality and therefore very desirable accolades to receive.
The awards are given in many categories so that like websites are compared and measured against others in the same industry or similar niche. Examples of industries included in 10 Best Design's web awards are medical and biotech, entertainment, blogs, fashion and ecommerce. The most significant awards given are those in the overall web design awards category. This takes the most highly scoring firms and generates a list of the ten best. Scores are given according to performance in areas such as website traffic, search engine optimization data, client research and online research. When these ranking points are collated, an analytical algorithm places the companies from one to ten according to their performance. This system of review is unique in its ability to compare the best web design firms in a comprehensive and meaningful way.
10 Best Design recognized Skuba Design of New Orleans in 10th position in the most recent round of awards. Skuba Design has worked with some illustrious clients including Audi, Motorola, AOL and Toshiba to name but a few. Since its beginnings in 2000, Skuba Design has brought together creative individuals with talent and experience in graphic design, web development, marketing and illustration to really create exceptional web experiences. Skuba Design focuses not only on the visual result of its work, but the business result for its clients; a carefully thought out strategy, for example targeting a given demographic, is taken through from conception to accomplishment. Their services can be split into four distinct areas and those are strategy (brand and web presence strategy, social media and content development), interactive (mobile apps, software and graphics/video development), design (print materials, signage and packaging) and branding (company naming, logo and branding development). With such a comprehensive service, it's not surprising that Skuba Design has worked with many well-known companies.
10 Best Design maintains a directory containing details of design agencies from all across the country. Before a company is included in 10 Best Design's list of best web design firms, they have to be admitted into this directory. Companies can apply to be entered into the directory via the 10 Best Design website and they are then looked at by the team to decide if they meet the high standards required. If so, they may then be making an appearance on the overall best design lists and receiving awards very soon afterwards. And a recommendation of that level will surely enhance their standing as one of the country's very best web design firms.