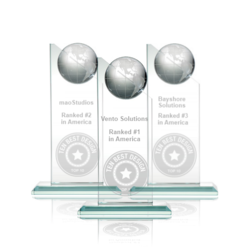 10 Best Design has already helped some individuals and companies who were seeking services reach out to the 'Best Web Design Firms of 2012'
San Diego, CA (PRWEB) August 23, 2012
10 Best Design, a web design awards and ranking organization, recently announced the winners of their Best Web Design Firms of 2012, and they have now released the first glimpse of the awards and trophies available to the winners.
The simplistic digital badges were created to be displayed on the websites of the 10 winning web design firms. 10 Best Design is in the process of sending these badges to each company with the hope that they will wear them proudly for all to see.
The trophy available to the Best Web Design Firms of 2012 includes an optical crystal half globe atop a placard prominently displaying the 10 Best Design insignia as well as the individual company's nationwide ranking.
The site has rapidly gained popularity within the realm of ranking for web design companies. 10 Best Design has already helped some individuals and companies who were seeking services reach out to the 'Best Web Design Firms of 2012'.
In fact, after creating their new Twitter account less than one month ago, the company's Twitter handle, @10BestDesign, has already acquired more than 1,000 followers from around the world.
All of this is due to 10 Best Design's ranking of the Best Web Design Firms of 2012. The 10BD team first began building a list of top American web design agencies, then graduated to creating awards rankings for the companies which they believe to be exemplary in the industry.
These companies have become part of 10BD's Best Web Design Firms of 2012.
Award winners come from across the country - from Tampa Bay, Florida to Portland, Oregon and beyond.
The complete list of 10BD's Best Web Design Firms of 2012 is as follows:
1. Vento Solutions (San Francisco, California & New York City, New York)
2. maoStudios (Seattle, Washinton)
3. Bayshore Solutions (Tampa, Florida)
4. Magic Logix (Dallas, Texas)
5. Orbit Media Studios (Chicago, Illinois)
6. Fusionbox (Denver, Colorado)
7. Green Tie Marketing (Kansas City, Missouri)
8. Southern Web Group (Atlanta, Georgia)
9. Thought Lab (Salt Lake City, Utah)
10. Forix Web Design (Portland, Oregon & Seattle, Washington)
This year's winner, Vento Solutions, is a breakthrough boutique design and development shop which has client accounts from coast to coast. They also reach beyond America's borders to Hong Kong and Rio de Janeiro.
maoStudios, the very close runner up, has built business relationships clients such as Double Helix Games and Crayola. They tend to design interactive and colorful websites.
For more information about 10 Best Design or their top rated firms, visit http://www.10bestdesign.com/