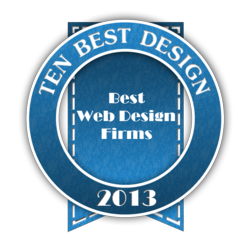 The new site compliments these web design awards...
San Diego, California (PRWEB) January 31, 2013
10 Best Design is proud to announce the re-launch of their website. The site update follows immense attention in online media publications and rapid increases in web traffic. After gaining significant notoriety for their Best Web Design Firms awards, it became clear that it was time to bring the site into 2013 with a bang.
The new site incorporates a clean, sleek design which utilizes negative space as much as it does imagery and graphics. It features improved navigation as well as interactive interior pages for viewing important content.
The new web design also includes a uniquely timed slider which brings elements on page in a piecewise fashion, as opposed to in single large images.
Not only has the site received a new look, the 10BD team has begun to expand beyond their rankings of the best web design firms. The newest rankings have been given out across a variety of category specific web design awards.
The new site compliments these web design awards, and the new awards were made possible by the new site layouts. The changes are all geared to promoting top web design firms in 2013.
Additionally, 10 Best Design has announced plans to create an easy-to-use admin backend, which will allow entrants to view information about their submissions and awards. The new backend will likely include analytics, online marketing, and much more.
To participate in 10 Best Design's contests, submit to their web design awards now.