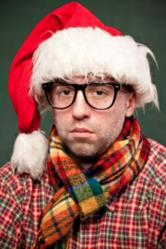 I know some women want to encourage their men to do more housework, but a vacuum cleaner for Christmas is not the answer
San Francisco, CA (PRWEB) December 23, 2011
Just in time for last minute holiday shopping, Cheap-Neckties.com has published a list of The Top 10 Worst Christmas Gifts for Men. From the clueless wife who wants to give her husband a not-so-subtle hint with a gift of Rogaine to the uninspired daughter who shows her love for her father with a nose hair trimmer to the disgruntled girlfriend who offers her neurotic man a self-help book, Cheap-Neckties.com aims to help the women of the world make wiser gift-giving choices this year. In this spirit, the site shares a list of the biggest holiday gift no-no's.
Of course, the popular online tie retailer has its own ideas about the ideal Christmas gift. The site carries over 3,000 fashionable and affordable men's neck and bow ties in sizes to fit every man. It is rumored that Santa Claus himself sports one of Cheap-Neckties.com's extra long ties in red in the wintertime (but he prefers the site's skinny ties when he slims down for the summer). Meanwhile, Santa's elves don green ties from Cheap-Neckties.com's Kids Section when they head to the workshop every morning.
"I know some women want to encourage their men to do more housework, but a vacuum cleaner for Christmas is not the answer; not even the latest edition, space-ship like looking Dyson is a good present for a man." said Cheap-Neckties.com founder Hendrik Pohl. "And a one-month gym membership is not a good Christmas gift. It's cruel and unusual punishment. Also, unless he's guilty of committing a violent crime against Santa, he doesn't deserve a box of frozen veggie burgers. The only sure way to please a man who is difficult to shop for is with a stocking stuffed with rolled-up ties in every color, print and style from Cheap-Neckties.com."
Other bad gift ideas that make it to the Top 10 Worst Christmas Gifts list include: the back hair shaving kit, the Snuggie and every man's nightmare—the dreaded six pack of socks.
Instead, Pohl recommends leaving one of Cheap-Neckties.com's fabulous men's accessories under the tree this year. The site carries a selection of ascots, men's scarves, pocket squares, cheap cufflinks and inexpensive tie bars.
Pohl offers another suggestion to gift-giving girlfriends and wives. "Welcome him to bed on Christmas Eve by wearing a Cheap-Neckties.com tie. And nothing else. That's surely the best way to find out if he's naughty or nice."
For the complete list of Worst Christmas Gifts For Men, please visit: http://www.cheap-neckties.com/blog/wrapper.php?/archives/437-10-Worst-Christmas-Gifts-for-Men.html
###