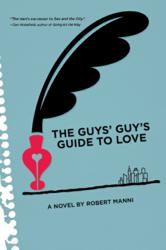 between MMA and mantyhose, should a guy still be opening the door for a girl and paying the bill or not?
New York, NY (PRWEB) August 03, 2012
Robert Manni, author of The Guys' Guy's Guide to Love (Live Oak) officially launched his Guy's Guy Radio on BlogTalkRadio. The new show is in conjunction with content partner MediaNosh, a production and digital marketing company focused on 'positive food for thought', and will be a thirty minute segment on a Guys' Guy's guide to life, love and the pursuit of happiness, airing bi-weekly on Wednesdays at 7pm on BlogTalkRadio. For more information go to http://www.blogtalkradio.com/guys-guy-radio
According to Manni's astute definition a Guy's Guy is a modern day man's man, without the machoism, who instead embodies a healthy dose of unassuming strength and emotional intelligence. A guy that's comfortable in his own skin, and fully embraces the ascent of women.
Guy's Guy Radio was inspired by Manni's novel which explores the new masculinity of yesterday's "Man's Man" becoming today's "Guy's Guy"—a return to the casual confidence and seductive integrity of the classic male, but updated to reflect the belief that everybody wins when men and women can be at their best. Manni hopes this novel will be a top 100 book this summer.
Guy's Guy Radio is hosted by Robert Manni and co-host Stephanie Wang, founder and CEO of MediaNosh. The show covers a variety of need-to-know topics that include dating, relationships, and ways to live happily and healthily.
"It's ironic that we live in a world more interconnected than ever, yet there seems to be a growing chasm between the sexes in understanding each other as women have ascended leaps and bounds and men are redefining their roles. We try to tackle this in a fun and entertaining way with the show." said Robert Manni, "Stephanie and I both share a passion for a better discussion on this topic than what we currently see out there."
"I think it's especially tough for guys who are getting such mixed messages these days - between MMA and mantyhose, should a guy still be opening the door for a girl and paying the bill or not?" said Stephanie Wang, "Guy's Guy Radio can hopefully give some guidance on that." Hint: gentlemanly behavior goes under timeless style – part of the Guy's Guy code. The Guys' Guy's Guide To Love, one of the 100 best books of summer, is available for purchase on Amazon.
Robert Manni's web site, robertmanni.com, includes a link to his blog "On Life, Love and the Pursuit of Happiness" as well as background on the book. With over 20 years of experience with the majors in the advertising industry, and known for creative campaigns including Zappos, Tequila 1800 and Three-O Vodka, Robert Manni is currently President of BrandEnable, a marketing consultancy in New York City. He can also be heard on ABC Radio's new lifestyle station Men's Life in conjunction with Slacker, Inc., with a featured show on dating and relationships.
Stephanie Wang is founder and CEO of MediaNosh (medianosh.com) in New York. She is a content strategist, digital marketing professional and award-winning multimedia producer with 15 years of experience in content creation. She specializes in digital brand strategy and implementing turnkey solutions for small and medium sized businesses covering content marketing, social media engagement, digital marketing, website build, and production of video and other web assets.