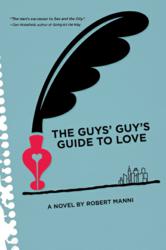 The Guys' Guy's Guide to Love (Live Oak) is a book about modern love, sex and relationships set amidst Manhattan's Madison Avenue
New York, NY (PRWEB) August 01, 2012
Robert Manni, author of The Guys' Guy's Guide to Love (Live Oak), a book about modern love, sex and relationships set amidst Manhattan's Madison Avenue, recently launched his summer-long blog tour including guest appearances on fan favorites such as Cupid's Pulse, Chick Lit Club, Romance Junkies and many more. Robert will be sharing his views on life, love and the pursuit of happiness. Readers and relationship seekers alike can get updates on the tour via his Facebook Page. Participants can enter the Guy's Guy Sexy Summer Giveaway by going to robertmanni.com/sexy-summer-giveaway. This novel has been said to be one of the top 100 best books of summer.
Described as "Sex and the City" meets "Mad Men," The Guy's Guide combines Manni's affinity for advertising, NYC and being a modern day 'Guy's Guy' with his own personal quest for love -- taking readers on a behind-the-scenes romp through the enigmatic world of Manhattan's ad men in a fresh, honest way that answers the question- what makes men tick?
A blog tour is when an author goes from blog to blog instead of from store to store, and his 'appearances' are when his guest post, book review or Q&A are then published by the various bloggers over a period of time, usually in concert with some kind of giveaway. It's a great way to expand an author's audience, especially with influential bloggers as you can tap into their subscribers and followers who share the same interests.
"You need to keep writing⎯fiction, non-fiction, blog posts, tweets, and whatever it takes to get people to know you, what makes you tick and how your work relates to their lives. It's not about you. It's about them." said Robert Manni.
Manni's web site, robertmanni.com, includes a link to his blog "On Life, Love and the Pursuit of Happiness" as well as background on the book which is considered a top 100 book this summer. With over 20 years of experience with the majors in the advertising industry, and known for creative campaigns including Zappos, Tequila 1800 and Three-O Vodka, Robert Manni is currently President of BrandEnable, a marketing consultancy in New York City. He can also be heard on ABC Radio's new lifestyle station Men's Life in conjunction with Slacker, Inc., with a featured show on dating and relationships.
"Robert Manni has a message for his fellow men. You've got some catching up to do…His words of wisdom on that subject are woven throughout his first novel, 'The Guys' Guy's Guide To Love'." ~ The New York Post
"The author inoffensively explores the nature of men and women, the wily ways of seduction, and how contemporary culture has evolved romantic mores and enhanced (and complicated) the dating dance." ~ Publishers Weekly
"Prepare to man up and hunker down for this exuberant guided tour of the male sexual psyche"
~ Ian Kerner, NY Times best-selling author of She Comes First and Love in the Time of Colic