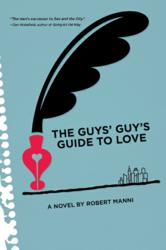 We've moved beyond the prototypical man's man Sean Connery types of the 60s, as well as the sensitive 90's guys to arrive at a new paradigm
New York, NY (PRWEB) July 29, 2012
Author Robert Manni is establishing the Guy's Guy as today's version of a Man's Man through his novel The Guys' Guy's Guide to Love (Live Oak). Considered one of the 100 best books of summer, Manni launched a new video that astutely answers the question: What is a Guy's Guy?
In the novel, protagonist Max Hallyday joins his womanizing best friend Roger Fox - under the guise of "learning from the master" - for adventures in New York's urban dating jungle, with Max exposing Roger's deep, dark dating secrets in an anonymous column. We get to know the women they tangle with in business, and who share their beds, confidences, and ambitions. As a result, Max walks the difficult line of being a real man⎯a Guy's Guy - in a world where men have never been freer to be who they want, but where it's never been less clear who they are.
The Manni novel explores the new masculinity of yesterday's "Man's Man" becoming today's "Guy's Guy" - a return to the casual confidence and seductive integrity of the classic male, but updated to reflect the belief that everybody wins when men and women can be at their best.
Instead of the dysfunctional 20-somethings and leering power-studs that populate so much of pop fiction, The Guys' Guy's Guide to Love is about today's real men - Guys' Guys,' finding their way, welcoming the rise of women, while competing with them for love, sex, power and money in the city where they play for keeps.
"We've moved beyond the prototypical man's man Sean Connery types of the 60s, as well as the sensitive 90's guys to arrive at a new paradigm", said Manni. "A Guy's Guy is someone who embodies unassuming strength, has emotional intelligence and integrity, a fun and positive spirit as well as a timeless sense of style, all of which are very seductive."
Robert Manni launches a new video which answers the question: What is a Guy's Guy? He contends that a Guy's Guy is characterized by his casual confidence, his ability to pay attention and his appreciation of every aspect of the ascension of women. Manni's novel is a top 100 book this summer.
Manni's web site, http://www.robertmanni.com, includes a link to his blog "On Life, Love and the Pursuit of Happiness" as well as background on the book. With over 20 years of experience with the majors in the advertising industry, and known for creative campaigns including Zappos, Tequila 1800 and Three-O Vodka, Robert Manni is currently President of BrandEnable, a marketing consultancy in New York City. He can also be heard on ABC Radio's new lifestyle station Men's Life in conjunction with Slacker, Inc., with a featured show on dating and relationships.
"Robert Manni has a message for his fellow men. You've got some catching up to do…His words of wisdom on that subject are woven throughout his first novel, 'The Guys' Guy's Guide To Love'." ~ The New York Post
"The author inoffensively explores the nature of men and women, the wily ways of seduction, and how contemporary culture has evolved romantic mores and enhanced (and complicated) the dating dance." ~ Publishers Weekly
Prepare to man up and hunker down for this exuberant guided tour of the male sexual psyche
~ Ian Kerner, NY Times best-selling author of She Comes First and Love in the Time of Colic