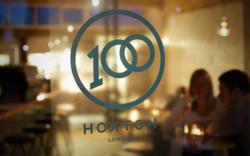 London, UK (PRWEB) June 05, 2013
Zilouf's, the popular Upper Street, Islington cocktail bar and restaurant, has just opened a new venue in London's vibrant Shoreditch neighbourhood. To celebrate the opening of the new eatery, 100 Hoxton, all food will be half price until Sunday, 19 June.
The menu is a bold journey beyond the spice route taking in influences from the Far and Middle East. Executive chef Tim Yates and head chef Francis Puyat, formerly of NOPI, has delivered a concise sharing menu with the former using his extensive experience with Thai and Vietnamese flavours in particular. As is traditional in Asia, all dishes are designed to be shared.
Ramael Scully, head chef at NOPI, has put some finishing touches to the menu, in particular utilising his pickling expertise. He is also scheduled to appear as a guest chef at some events in the near future.
100 Hoxton will serve a range of innovative and classic cocktails under the direction of mixologist Max Dennis, protégé of Zilouf's award-winning Benji Purslow. The 100 Hoxton specialty cocktails are spicy and exotic, good examples include a shiso-infused martini and a signature chili-warmed champagne cocktail.
The open plan, Bauhaus-inspired interiors have been designed by Yaojen Chuang, consultant architect whose work has been displayed at the Venice Biennale's International Architecture Exhibition.
Since Andrew Zilouf opened Zilouf's in November 2008, the bar and restaurant has gained a solid reputation for killer drinks, delicious food and a convivial buzz and in doing so has attracted several awards. He hopes 100 Hoxton will follow in these illustrious footsteps:
"I'm really excited about 100 Hoxton. Building up Zilouf's has been a hard slog, but nothing beats the feeling of seeing satisfied customers and knowing that you're serving food and drink that they really love. We hope that the new restaurant will also attract a loyal following of those who enjoy decent grub and cocktails with extra zing. I'm also very proud to be opening a restaurant in the East London neighborhood where my grandfather and father sweated it out in the rag trade."
Address and contact information:
Please contact Andrew Zilouf for more information: 0207 2261118.
100 Hoxton opened on Tuesday 21st of May, 2013. The restaurant is a four minute walk from Hoxton Square and Kingsland Road at 100-102 Hoxton Street, Shoreditch, London, N1 6SG. Tel: 020 7729 1444, info(at)100hoxton(dot)com, http://100hoxton.com.
Zilouf's can be found at 270 Upper Street, London, N1 2UQ. Tel: 020 7226 1118, info(at)ziloufs9dot)com, http://www.ziloufs.com.