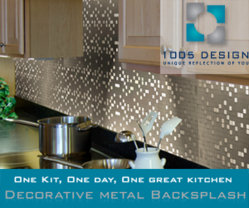 Metal backsplashes are not just for contemporary kitchens anymore.
Lima, OH (PRWEB) November 27, 2012
The holiday season is in full swing and who doesn't need a little extra cash for the holidays. 1005 Design is offering this opportunity on their 1005 Design Product and Trends Reflections blog. Over the last four months 1005 Design has been featuring kitchen inspiration boards on their blog to inspire ideas for remodeling the kitchen area. The purpose of the inspiration boards is to show how metal backsplashes can be incorporated into a variety of design styles. There is even an inspiration board for a cottage style kitchen with a stainless finish backsplash. Metal is not just for contemporary kitchens anymore. Metal trends are everywhere, even in the kitchen. These boards explore the ways to use metal in traditional and non-traditional methods.
In addition, 1005 Design is currently running a Holiday Inspirations sale on all their kitchen backsplash designs and finishes. Customers can save $20 by using the coupon code INSPIR4U on Amazon when ordering. There is also free shipping on all backsplash items. DIYers can easily install this backsplash in their kitchen in about 2 hours and with this sale price the total cost per square foot is just $10.60.
The Holiday Inspirations contest will run until Monday, December 10, 2012 at that time a winner will be randomly selected and will receive a gift card to the store of their choice. Anyone 21 or older and a U.S. citizen may participate in the contest.
Use this link to enter the 1005 Design Holiday Inspirations Blog Contest.
1005 Design uses the most recent trends to produce aluminum products for the home. Metal brings a degree of luxury, quality and depth that few other products can provide. We add to this a skilled staff in both designing and screen printing on aluminum. 1005 Design refers to the 5Ds of design to make sure that our products are always a unique reflection of you: Develop, Dream, Differentiate, Decorate and Deliver.