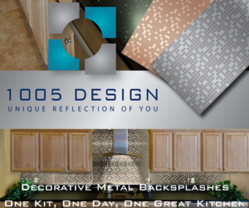 Enter by liking 1005 Design on Facebook and then join us for the Scavenger Hunt. We would love to help someone make their kitchen brand new for the holidays. ~ Nicole Busenbark, Marketing Specialist at 1005 Design
Lima, OH (PRWEB) August 23, 2012
The largest DIY home improvement season is fast approaching. It is time to get homes ready for all the great upcoming holiday activities. To help in this mission, 1005 Design is giving away a kitchen backsplash kit that will change the look of your kitchen in about 2 hours. Each backsplash kit contains 15 square feet of decorative metal backsplash panels and the matching trim. The panels are easy to install, have a durable proprietary coating, and are super easy to keep clean.
1005 Design recently released their new metal backsplash kit to the DIY market. The metal kitchen backsplashes come in 2 finishes and 6 designs. 1005 Design uses the philosophy of the 5Ds when developing new products and backsplash designs; Develop, Decorate, Deliver, Differentiate, and Dream. Each of these ideas are explained on the website, and are the finds of the Scavenger Hunt Contest.
For a chance at a new backsplash, join the Scavenger Hunt contest by exploring the 1005 Design website to find the one red 5D circle, and then selecting that same 5D circle from the entries available on the Facebook contest page.
The winner of the Scavenger Hunt can select the best 1005 Design's backsplash design and finish option for their kitchen. This is a prize value of up to $360.00 (up to 30 Sq Ft). For those who don't need a new backsplash, there is an alternative prize of a $100 gift card for your own DIY home project.
"Enter by liking 1005 Design on Facebook and then join us for the Scavenger Hunt. We would love to help someone make their kitchen brand new for the holidays," says Nicole Busenbark, Marketing Specialist at 1005 Design. The Scavenger Hunt can be found at 1005 Design's Facebook page. The contest ends Friday, August 31st so start the hunt soon.
About 1005 Design
1005 Design uses the most recent trends to produce aluminum products for the home. Metal brings a degree of luxury, quality and depth that few other products can provide. We add to this a skilled staff in both designing and screen printing on aluminum. 1005 Design refers to the 5Ds of design to make sure that our products are always a unique reflection of you: Develop, Dream, Differentiate, Decorate and Deliver.
For more information about 1005 Design visit our website at http://www.1005design.com