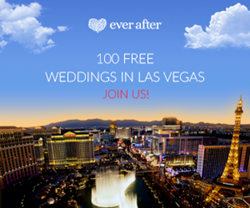 We're so proud that every couple in love can now wed legally here in Las Vegas. We're providing 100 free wedding ceremonies for couples to celebrate their love."
Las Vegas, NV (PRWEB) November 19, 2014
Ever After, a destination wedding and venue matching service, and its wedding partners, are celebrating 100 Days of Marriage Equality in Nevada by offering 100 complimentary wedding ceremonies for 100 couples. The winning couples will be married in Las Vegas wedding chapels and other wedding locations on Sunday Jan. 18, 2015 to mark 100 days after the gay marriage ban was overturned in Nevada.
Any lesbian, gay, transgender or straight couple from around the world is eligible to receive a free wedding ceremony, valued at up to $600, by submitting a short description of their love story to everafter.com/100freeweddings. The winners will be selected to receive free ceremony packages from select L.G.B.T.-friendly wedding venues. Ever After's partners for this giveaway include Chapel of the Flowers, Tropicana Weddings, Lakeside Weddings, Victoria's Family, Revere Country Club, JW Marriott, Rumor Hotel, Artisan Hotel, Ritz Banquet Hall and more.
"Las Vegas is the Wedding Capital of the World." Donne Kerestic, CEO of Ever After, said. "We want to celebrate the recent victory for Marriage Equality by highlighting that our wedding partners welcome L.G.B.T.Q. couples. We're so proud that every couple in love can now wed legally here in Las Vegas. We're partnering to provide free wedding ceremonies for one hundred couples to celebrate and commemorate their love with their family and friends."
Couples may qualify to be selected for the "100 Free Las Vegas Weddings Giveaway" by writing a short entry describing their story of romance. Happy couples can submit their romantic stories at everafter.com/100freeweddings between Nov. 14 and Dec. 19, 2014. Winning couples will be chosen by an Ever After representative and announced up to and including December 19th, 2014. The ceremony prize includes the cost of the venue, officiant, on-site coordinator, and ceremony set-up. Reception costs, travel, hotel accommodations and other wedding upgrades are not included in the giveaway, although Ever After's Las Vegas experts are available to help couples find L.G.B.T.-friendly vendors.
"Couples marry to make a lifelong promise of love and commitment to one another and to protect and care for their family, Kerestic said. "Ever After and its partners support the rights of everyone to get married."
The Jan. 18 wedding date falls on the Sunday before Martin Luther King Jr. Day.
About Ever After
Ever After is a Las Vegas-based free wedding resource that helps engaged couples find their dream wedding destinations and venues. The company offers venue-matching services in Las Vegas, Southern California, Hawaii, Mexico and the Caribbean. Unique to the industry, Ever After offers a Wedding Assurance™ guarantee of up to $100,000 to validate the excellence and integrity of its Bride-Certified Wedding Venues.