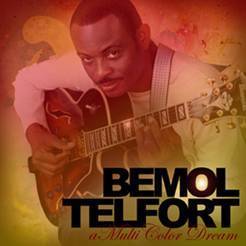 When people listen to A Multi-Color Dream, I want them to feel like they're on another planet
Phoenix, Arizona (Vocus) March 17, 2009
Bemol Telfort has announced he will be releasing his third album A Multi-Color Dream through 101 Distribution. The Miami-based jazz artist beautifully displayed his grandiose musicianship on his two previous projects, The Good News Is The Bad News Was Wrong and Smooth, but it's on A Multi-Color Dream where he finds his signature sound.
"I have so many different ideas, so many different melodies, so (many) inspirations (within the record) and it's symbolizes love for music, experience, peace, accomplishment and dignity," he explains. "I finally discovered my own unique style."
Set for release on May 12th, Telfort is in the midst of making a push towards radio with contemporary jazz delights like "Love For My Guitar," "Rabordaille" and "The Melody Of Love." Although Telfort plans to dominate airwaves with his elegant music, he is mostly concerned about giving listeners positive vibes.
"When people listen to A Multi-Color Dream, I want them to feel like they're on another planet," Telfort says. "(I want them to) feel like they 're listening to something natural, something (that) comes from my heart, something different, something distinct, and I want my new style of music to inspire them to bring joy, light, love, peace, happiness and blessings."
For more information or to pre-order A Multi-Color Dream visit http://www.101d.com
About 101 Distribution: 101 Distribution (Phoenix, Arizona) began shipping music and video titles to independent and commercial retail stores in November of 2001. Today, 101 Distribution manages the digital, mobile, retail and mail order sales for more than 2,000 touring artists and record labels worldwide. The company operates as the only distributor that offers artists a 100% payout for all net sales royalties in exchange for a flat monthly fee. 101 Distribution catalog titles can be found in 5,500 retail stores throughout the US, Canada and 8 major foreign territories as well as dozens of legal download and subscription sites.
101 Distribution
2375 East Camelback Road, 5th Floor
Phoenix, AZ 85016
T: 602-357-3288
W: http://www.101d.com
# # #