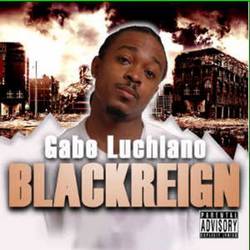 I want (people) to have déjà vu of the golden era (and be) like, 'This kid is it'
Phoenix, Arizona (Vocus) March 17, 2009
Gabe Luchiano , rapper and CEO of GoodFella Records, has announced that he will be releasing his official debut album Black Reign through 101 Distribution. The empowering title track will serve as the lead single and concentrates on the struggles urban youth tend to experience on a day-to-day basis.
"It cuts through my soul, so I wanted to cut through everybody else's soul as well," the MC explains. "Every inner city kid goes through hurt and pain, so I feel I can connect with them because I've gone through pain. I feel what they went through and I want them to feel me. I wanna tell them I'm there too and I got their back."
The video for "Black Reign" can be viewed at YouTube.com.
Aside from the empowering title track, the 24-year-old Boston rapper and CEO spreads his thought-provoking lyricism across eleven other tracks. With confidence in his ability and the determination to succeed, Luchiano hopes that once people hear Black Reign that they will place his name alongside East Coast greats such as Nas, Jay-Z and the late Notorious B.I.G.
"I want (people) to have déjà vu of the golden era (and be) like, 'This kid is it'," Luchiano proclaims. "He's not a fake teeny-bopper dancing guy. He's here and he's serious. He's going to the place that Nas and Jay-Z went. He's gonna be here for years to come and give heart to heart music. He's going to be relevant forever."
For more information or to pre-order Black Reign visit http://www.101d.com
About 101 Distribution: 101 Distribution (Phoenix, Arizona) began shipping music and video titles to independent and commercial retail stores in November of 2001. Today, 101 Distribution manages the digital, mobile, retail and mail order sales for more than 2,000 touring artists and record labels worldwide. The company operates as the only distributor that offers artists a 100% payout for all net sales royalties in exchange for a flat monthly fee. 101 Distribution catalog titles can be found in 5,500 retail stores throughout the US, Canada and 8 major foreign territories as well as dozens of legal download and subscription sites.
101 Distribution
2375 East Camelback Road, 5th Floor
Phoenix, AZ 85016
T: 602-357-3288
W: http://www.101d.com
# # #