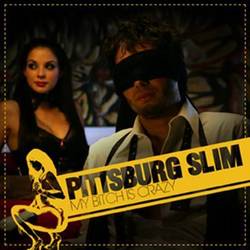 In rap, there are a lot of songs that put girls down, but I'm doing just the opposite. I mean, I like a crazy girl
Phoenix, AZ (Vocus) February 19, 2009
With his infectious banger "]My Bitch Is Crazy" quickly making an impact on iTunes, Pennsylvanian rapper Pittsburgh Slim has signed with 101 Distribution to turn his hypnotic record into a ringtone that will be readily available to download on all national and regional phone carriers.
The song, produced by Chris Styles (the man responsible for hits such as 50 Cent's "Disco Inferno" and "Window Shopper"), is an autobiographical crossover smash that pays homage to women who are comfortable in their own skin and happen to be a bit mischievous.
"In rap, there are a lot of songs that put girls down, but I'm doing just the opposite. I mean, I like a crazy girl," Pittsburgh Slim explains. "It's definitely a record that girls can dance to, but at the same time, it's not a chick song. Like guys aren't gonna blush when it comes on because guys like that too, and they can relate to having those situations with their girlfriends."
"My Bitch Is Crazy" is slated to appear in The Bleeding, a horror action movie that Slim also has a role in. It's due in theatres in October.
In September 2007, Jay-Z signed Pittsburgh Slim to Def Jam and he released a seven-track album entitled Tastemaker that December. Slim asked for his release from the label in August 2008 and has become an independent artist ever since.
For more information or to download the ringtone or single for "My Bitch Is Crazy," visit http://www.101d.com
About 101 Distribution: 101 Distribution (Phoenix, Arizona) began shipping music and video titles to independent and commercial retail stores in November of 2001. Today, 101 Distribution manages the digital, mobile, retail and mail order sales for more than 2,000 actively touring artists and record labels worldwide. The company operates as the only full service distributor that offers musicians and filmmakers a 100% payout for all net sales royalties in exchange for a flat monthly fee. 101 Distribution catalog titles can be found in 5,500 retail stores throughout the world, as well as dozens of legal download and subscription services, and all major regional and national mobile carriers.
###