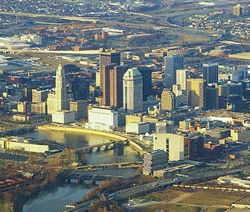 Columbus, OH (PRWEB) November 26, 2014
What: Tune in this Sunday to hear the discussion between Jeff Franklin, owner of 101 Mobility Columbus, and Melissa Groom, office manager for all of Jeff Franklin's 101 Mobility franchise locations. This month's segment of 98.9 The Answer's All Things Health will focus on Melissa's experience working with the customers and addressing their unique needs and concerns. Being the first point of contact with a client is incredibly important because it allows Melissa to fully understand their situation so she can direct them to the right person for assistance. It takes a wide understanding of people's needs and physical abilities as well as a strong product and service forte to complete her job effectively. This service format is a signature aspect of 101 Mobility's core values that both Jeff and Melissa work diligently to bring to the Columbus, Cleveland, and South East Michigan communities.
To hear the entire discussion between Jeff Franklin and Melissa Groom of 101 Mobility of Columbus, Cleveland, and S.E. Michigan, tune into 98.9 The Answer this Sunday morning!
For more information on 101 Mobility Columbus, including their array of aging-in-place solutions, please visit: http://columbus.101mobility.com/
STATION: 98.9 FM The Answer – News.Opinion.Passion. Columbus, Ohio
WHEN: All Things Health airs on the first Sunday of each month. The link can also be used to listen to archived episodes!
December's show airs Sunday, December 7, 2014, 8:00 A.M. – 9:00 A.M.
About 101 Mobility:
101 Mobility is a full-service sales, service, and installation provider of a complete line of mobility and accessibility products and equipment, including stair lifts, auto lifts, ramps, porch lifts, patient lifts, power wheelchairs, scooters and more. Short and long-term rentals are also available for home, office, and institution. By working with patients to identify which home health care devices best suit each individual's needs, 101 Mobility provides an alternative to group homes and rehabilitation centers by increasing accessibility and allowing clients to live self-sufficiently in their homes. For more information, please visit: http://columbus.101mobility.com/