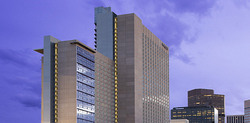 Denver, CO (PRWEB) October 25, 2007
Make your holiday reservation now to enjoy the same rate that relatives and friends of Hyatt Regency Denver employees enjoy - the Family Rate - at a 30% discount! As always, experience luxuriously comfortable downtown Denver hotel accommodations and superb service during your stay - but for a limited time, enjoy it at the Family Rate. Book now through Oct. 31, 2007, to experience this warm, friendly special offer.
A Season of Giving at this Hyatt Regency Hotel in Downtown Denver, Colorado
Celebrate the spirit of giving at this highly distinguished downtown Denver Colorado hotel. Available through Oct. 31, 2007, this limited-time offer includes:

Overnight accommodations at a 30% discount off the best-available rate
Discounted self-parking at $10, for additional savings
*Upgrade to Regency Club level accommodations, with access to the private VIP lounge, for just $25 more - representing a 50% discount!
Book this specially featured Denver hotel package online now! This offer can also be reserved by calling 303-436-1234.
About Hyatt Regency Denver at Colorado Convention Center:
All the excitement of the Mile High City awaits you at Hyatt Regency Denver at Colorado Convention Center. Just outside the doors of our perfectly situated downtown Denver hotel lies the heart of the city's business and entertainment districts. Walk to meetings, stroll through the 16th Street Mall, take in a performance or sports game, or simply enjoy people watching in this busy metro area. Business guests will appreciate the convenience of our luxurious Denver Colorado hotel, with 24-hour services and impeccable facilities. Pampering amenities, welcoming staff and stunning views at every turn make this the premier hotel in downtown Denver, whether visiting for business or enjoying a weekend getaway.
###