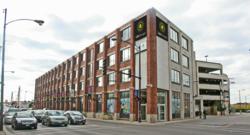 Chciago, IL (PRWEB) June 22, 2012
LifeStorage, Chicago self storage provider for home and business, records management and office solutions, is excited to announce its newest acquisition, a property located 1030 W. North Ave., in Clybourn Corridor, an area of the Lincoln Park neighborhood in Chicago. Life Storage Centers LLC, in conjunction with a trust, purchased the 114,000 square-foot property from LNR Property LLC of Miami. The building had previously been occupied by a Circuit City. When the electronics retailer shut its doors in 2008, it left 31 percent of the property unoccupied, and currently, only a local gym is leasing space in the entire structure, roughly 10,000 square feet.
For Life Storage, this is yet another perfect location to bring its unique, upscale brand of self storage to another Chicagoland neighborhood. Tentative plans for the property include Life Storage solutions, potential office rentals, and retail leasing. It's another step in showcasing one of Chicago's own and the most luxurious climate-controlled, secure, self-storage and record management solutions available in the entire city. Life Storage co-owner Christopher Barry mentions that the project is still in the early stages and will require interior and exterior improvements, so there isn't a set-in-stone date for what will eventually be the 19th store in the Life Storage family.
"These things take time, but this is a wonderful location. We've been looking in this area for a while now, and the close proximity to some prominent retailers will offer us some really great exposure. As a company, we're constantly trying to find prime areas to open new facilities, and we take great care and perform our due diligence before taking that next step," Barry said.
"With this space, we think we have a really special location on our hands and we can't wait to get the ball rolling. Like all great companies, we invest and expand when the time is right, and this is another step in our development as Chicago's premiere provider of self-storage solutions," continues Barry.