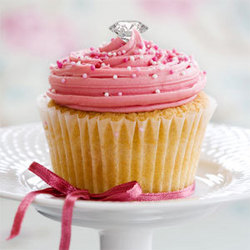 New York, NY (PRWEB) January 6, 2010
In honor of Since1910.com's 100 year anniversary, Since1910 is offering a $106,794 cupcake.
The diamond cupcake is available in vanilla or chocolate and features a 5.48 ct Round Diamond on top of the cupcake. The diamond advertised is a GIA certified 5.48 ct round diamond – F color – Si2 clarity – Good Cut. There are many diamond options for the cupcake, which will affect the total price of the cupcake.
"We are thrilled to offer this amazing proposal dessert for those discerning patrons who want to create a once in a lifetime memory." – says Eric Peerless, Vice President of Since1910.com
Peerless states that they will ship the cupcake and diamond via Free Fedex overnight anywhere in the world.
After hearing a surprising amount of engagement stories from men who proposed using dessert as the proposal vehicle, Peerless decided to offer this incredible dessert via their website.
For more information contact http://www.since1910.com at 1-800-979-1910
About Since1910
Combining cutting-edge technology, a designer-direct supply and almost 100 years of first-hand experience, Since1910.com is the premier online diamond jewelry retailer and a technological leader in the online diamond retail business. Bringing brick-and-mortar quality to the online retail space, Since1910 sells only GIA-certified diamonds and maintains a large selection of designer engagement rings including Tacori, Scott Kay, Simon G, Jeff Cooper, Martin Flyer, Henri Daussi and Vatche among others.Since1910 is a member of the Jewelers Vigilante Committee, The Retail Jewelers of America and the American Gem Society (AGS). For more information, visit http://www.since1910.com.
###