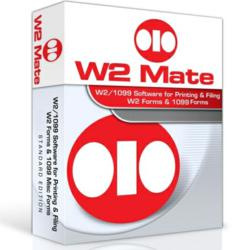 If your recipient 1099 information or employee W-2 information resides inside QuickBooks and you are looking for a 1099 software to prepare your QuickBooks 1099 forms or W2 forms then W2 Mate is definitely for you.
(PRWEB) January 02, 2012
Real Business Solutions (http://www.W2Mate.com) invites QuickBooks users, including accountants and payroll processors to try the 2012 QuickBooks 1099 electronic reporting module available in its W2 Mate software. W2 Mate, year-end W2 and 1099 filing solution, is loaded with features that make it easy and affordable for business filers to process a wide array of IRS tax forms on paper and electronically.
"The Intuit QuickBooks import wizard that comes with W2 Mate is one of the most powerful and easy to use QB import utilities available in the industry. W2 Mate directly connects to QuickBooks software and extracts the information needed to print and electronically file QuickBooks 1099s with the IRS and W-2s with the SSA," says W2 Mate product manager, Nancy Walters.
W2 Mate meets the 1099 electronic filing requirements of the Internal Revenue Services and a number of state departments of revenue by proving the ability to generate files in the IRS 1099 electronic filing format. The W2 1099 software also fully supports the EFW2 format for e-filing W2's with the Social Security Administration and states that accept EFW2 submissions. For interested QuickBooks users, a free 1099 software demo can be downloaded by visiting the W2 Mate product page.
W2 Mate W2 1099 software offers support for paperless (electronic) and paper (print) of wage and information returns W-2, 1099-MISC, 1099-INT, 1099-DIV, 1099-R, W-3, 1096, 1099-S, 1098-T, 1098, 1099-A, 1099-B, 1099-C, 1099-PATR and 1099-OID.
The IRS FIRE (Filing Information Returns Electronically) system is set up for financial institutions and others to file Information Return Forms 1042-S, 1097, 1098, 1099, 3921, 3922, 5498, 8027, 8935, or W-2G. An Information Return is a tax document required by Internal Revenue Code regulations and is used to report certain types of payments made by financial institutions and others who make payments as a part of their trade or business. The IRS describes electronic filing as "The hottest way to file your Information Returns with the coolest results."
W2 Mate supports filing the following QuickBooks 1099 forms:

1099 MISC Forms: Miscellaneous Income
1099-INT Forms : Interest Income
1099-DIV Forms : Dividends and Distributions
1099-R Forms : Distributions From Pensions, Annuities, Retirement, etc.
1098-T Forms : Tuition Statement.
1096 Forms : Annual Summary and Transmittal of U.S. Information Returns.
W2 Forms : Wage and Tax Statement.
W3 Forms : Transmittal of Wage and Tax Statements.
1099-B Forms : Proceeds From Broker and Barter Exchange Transactions.
1099-PATR Forms : Taxable Distributions Received From Cooperatives.
1099-OID Forms : Original Issue Discount.
1099-S Forms: Proceeds From Real Estate Transactions.
1098 Forms : Mortgage Interest Statement.
1099-A Forms : Acquisition or Abandonment of Secured Property.
1099-C Forms : Cancellation of Debt.
Give the QuickBooks 1099 electronic filing module from W2Mate.com a test drive and see for yourself how easy QuickBooks 1099 reporting can be. Visit W2 Mate Software page at http://www.w2mate.com
About Real Business Solutions:
Established in 2003, Real Business Solutions is an industry leader in providing small business payroll software, 1099 preparation software and W2 tax software solutions for 2012, 2011, 2010 and before. Real Business Solutions products are used by thousands of businesses, tax professionals, non-profit organization, and government agencies all across America. Real Business Solutions was founded in Illinois in 2003. The Company's mission has been to provide powerful and great value software solutions coupled with high quality customer service. Through this website small businesses and accounting professionals can find and download software to manage payroll, report payroll taxes, print W2 Forms, Print 1099 Forms, e-File 1099, electronically file W2 forms, print checks and prepare payroll forms like 941, 940, 944, W-2, W-3, California DE-6 , California DE-7 , Texas C-3 , Texas C-4, New York NYS-45, Illinois 941 and Illinois UI-3/40.
###