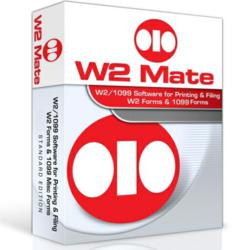 The Sage Peachtree import wizard that ships with W2 Mate is one of the most advanced , yet easy to use PT import utilities available in the industry. W2 Mate can remap 1099 data stored inside Peachtree into more than 14 types of tax forms.
(PRWEB) December 07, 2011
Real Business Solutions (http://www.W2Mate.com), a leading provider of IRS 1099 software programs, invites Peachtree users to try the state-of-the-art import wizard for Sage Peachtree 1099 forms available in its W2 Mate software. W2 Mate, W2 and 1099 reporting solution, is loaded with features that make it easy and affordable for companies, tax professionals and financial institutions to prepare, process, print and file electronically 1099 forms including W2, 1099-MISC, 1099-INT, 1099-DIV, 1099-R, W-3, 1096, 1099-S, 1098-T, 1098, 1099-A, 1099-B, 1099-C, 1099-PATR and 1099-OID. Free Peachtree 1099 software trial is available at http://www.W2Mate.com.
Year-end wage and information reporting is one of the most daunting tasks of any business or tax professional, including Sage Peachtree users. Peachtree W2 and 1099 filing is typically a lengthy, expensive process, especially for filers trying to process 1099 forms other than 1099-MISC or wanting to file electronically with the IRS. W2 Mate software intends to change all that. The Sage Peachtree 1099 import wizard that ships with W2 Mate system is one of the most advanced, yet easy to use import utilities available in the industry. The import process is broken into well-defined easy-to-follow steps, and the user can edit the 1099 forms data or fix errors before doing the actual import.
W2 Mate can import 1099 data from the following Peachtree editions that can generate the "1099 Vendor" report: Peachtree Pro Accounting , Peachtree Complete Accounting, Peachtree , Premium Accounting , Peachtree Premium Accounting Accountant's Edition , Peachtree Premium Accounting for Manufacturing , Peachtree Premium Accounting for Distribution and Peachtree Quantum.
Thanks to its blank form printing capability, W2 Mate software saves Peachtree users time and money by printing 1099 forms copy B (for recipient) and Copy C (for payer) on regular white paper using black ink. This eliminates the need to buy expensive laser red-ink forms. All substitute forms generated by this 1099 printing software comply with IRS publication 1179 (General Rules and Specifications for Substitute Forms 1096, 1098, 1099, 5498, W-2G, and 1042-S).
The IRS FIRE (Filing Information Returns Electronically) system is set up for financial institutions and others to file Information Return Forms 1042-S, 1097, 1098, 1099, 3921, 3922, 5498, 8027, 8935, or W-2G. An Information Return is a tax document required by Internal Revenue Code regulations and is used to report certain types of payments made by financial institutions and others who make payments as a part of their trade or business. The IRS describes electronic filing as "The hottest way to file your Information Returns with the coolest results."
In a statement Nancy Walters, W2 Mate product manager at Real Business Solutions said, "If your 1099 information resides inside Peachtree and you are looking for tax software to prepare your IRS 1099 forms or W2 forms then W2 Mate is definitely for you. Once the 1099 tax data is inside W2 Mate, the user can print recipient copies on regular white paper, generate recipient copies of form 1099-MISC as PDF (to be emailed), print 1099 Copy A for the IRS, print 1096 transmittal for the IRS, or file 1099 forms electronically through IRS FIRE system. On the W-2 reporting side, once the data is imported from Peachtree, the user can print employee copies and W2 copy A on regular white paper, generate employee W2's as PDF (to be emailed), print W-3 transmittal for the SSA, or e-file electronically by using the EFW2 format ."
W2 Mate Software highlights:

Imports data from Intuit Sage Peachtree, Sage DacEasy or CSV/ Excel.
Imports data from Intuit QuickBooks (QuickBooks Pro, QuickBooks Enterprise, and QuickBooks Premier) and Microsoft Dynamics (GP or SL).
Prepares unlimited number of W2 and 1099 forms for multiple employers and payers.
Fills in pre-printed 1099 Copy-A forms and prints other copies such as recipient and payer copies on plain paper using black ink.
E-files W2s and 1099s with the SSA and IRS (no limitations on the number of forms or submissions).
Creates employee W2's as PDF and recipient (vendor) 1099's as PDF.
Prints government-approved W-2 and W-3 forms on regular white paper (no red-ink form to buy),
Supports 1099MISC, 1099INT, 1099DIV, 1099R, W2, W3, 1096, 1099S, 1098T, 1098, 1099A, 1099B, 1099C, 1099PATR, 1099OID.
Automatically calculates Social Security and Medicare taxes.
Roll-over of payer and recipient information from year to year.
Password protection and data validation.
Generates printing labels, form totals and recipient lists.
W2 Mate is trusted by thousands of businesses and professionals nationwide. A free demo of W2 Mate can be downloaded by visiting http://www.realtaxtools.com/.
###