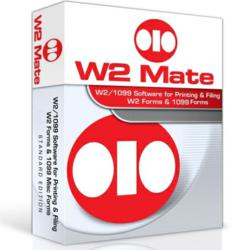 Going paperless is the smart and savvy thing to do. Use W2 Mate software to create green and ready-to-email PDF 1099 forms.
Chicago, IL (PRWEB) January 23, 2012
Real Business Solutions (http://www.realtaxtools.com) announces the release of its 2011 PDF 1099 creation module, which is available as part of its W2 Mate software. Through W2 Mate, businesses and 1099 service providers can generate secure, IRS-compliant and ready-to-email 1099 forms in PDF format. The PDF 1099s can then be electronically sent to vendors, contractors and recipients instead of paper copies, which delivers tangible money and time-saving benefits to US businesses and tax filing providers.
Free 1099 Software trial can be downloaded from W2 Mate's website by visiting http://www.realtaxtools.com/. Filers can purchase the software and receive it instantly.
"The PDF 1099 forms feature available inside W2 Mate makes issuing 1099s to recipients as simple as sending email. No forms to print, no envelopes to stuff, no paper cuts, no postage and no headache. Just enter recipient information, generate a PDF file and email," says W2 Mate product manager Nancy Walters.
Instead of printing recipient 1099s on blank paper or pre-printed forms, W2 Mate can create an encrypted, password protected PDF file for each vendor (contractor). In order to open the PDF files, recipients would use their Tax ID (SSN) and the city name portion of their address. Emailing password-protected PDF 1099 forms is probably more secure than paper forms which could be stolen or lost in the mail.
W2 Mate was the first 1099 software to introduce the ability to generate secure PDF 1099 Forms and PDF W2 Forms. Emailing 1099 forms saves businesses precious time and money. Large organizations such as banks, factories and universities are currently using electronic delivery of 1099 forms to reduce the costly and labor-intensive process of printing and then distributing these forms by mail.
The PDF files generated by the W2 Mate W2 / 1099 compliance system are encrypted and require a password in order to be opened. This makes sending these files by e-mail or any other electronic means more secure. The electronic version of form 1099 generated by W2 Mate contains all required information and complies with applicable IRS procedures relating to substitute statements to recipients.
W2 Mate software highlights:

Generates secure PDF 1099 forms and secure W2 PDF forms.
1099 E-File support (Complies with IRS Publication 1220- Specifications for Filing Form 1098, 1099, 5498, and W-2G Electronically or Magnetically).
W2 E-File support (Complies with SSA EFW2 format - Specifications for Filing Forms W-2 Electronically).
Prints 1099 Forms and W-2 Forms on pre-printed red forms.
Supports 1099-MISC, 1099-INT, 1099-DIV, 1099-R and W2 forms.
Approved by the Social Security Administration to print laser substitutes for expensive red-forms W2 and W-3 on white paper.
Helps businesses save money and still comply with government regulations.
Forms 1096 and W3 automatically generated.
Unlimited W2 & 1099 recipients / payers.
Great 1099 Software Reviews.
Network ready.
Imports data from accounting software including QuickBooks, Sage Peachtree, Microsoft Dynamics, Sage DacEasy, Excel and more.
Imports data from CSV format supported by most database applications.
Data checking and validation.
Automatic updates through the internet.
SSA and IRS approved.
W2 1099 data import from CSV file.
Exports W2 and 1099 forms to excel.
Visit W2Mate.com for free 1099 software trial and start processing 1099s immediately.
###