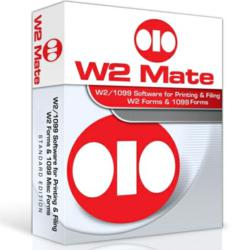 Our W2 Mate software has some of the best W2 1099 software features in the industry. Regardless of your evaluation criteria you will quickly find out that our software ranks up there. See for yourself by downloading a free demo from www.W2Mate.com
Chicago, IL (PRWEB) December 14, 2012
Real Business Solutions Inc. (W2Mate.com), have released the latest 1099 Bulk TIN Matching module which is great news for businesses, tax professionals and 1099 processing providers. The new module gives users all the features they expect from TIN Matching software including the ability to create, validate, parse and review Bulk TIN Matching request and response files according to IRS regulations outlined in publication 2108A (On-Line Taxpayer Identification Number TIN Matching Program).
Real Business Solutions has been developing year-end compliance software and solutions for small business and accounting professionals since 2003. W2 Mate 2012, the W2 1099 processing program offered by the company, provides compliance tools for paper and electronic filing of 2012 federal and state 1099, W-2 and series forms including W2, 1099-MISC, 1099-INT, 1099-DIV, 1099-R, W-3, 1096, 1099-S, 1098-T, 1098, 1099-A, 1099-B, 1099-C, 1099-K, 1099-PATR and 1099-OID.
Bulk TIN Matching gives 1099 payers the ability to check the TIN (Taxpayer Identification Number) provided by the payee (recipient) against the IRS records. Bulk TIN Matching will allow authorized users to submit up to 100,000 name/TIN combinations for matching. W2 Mate users can generate TIN Matching requests according to IRS specifications in a special file format and then use IRS eServices website to transmit their requests. Within 24 hours of sending a request, the submitter will receive a response file, which indicates the status of each TIN/Name combination. W2 Mate users can read and analyze the response files received from the IRS e-Services website.
W2 Mate helps 1099 filers generate TIN matching requests for the following payment types:

Miscellaneous Income (1099-MISC)
Dividends and Distributions (1099-DIV)
Interest Income (1099-INT)
Real Estate Brokers and Barter Exchange Transactions (1099-B)
Original Issue Discount (1099-OID)
Taxable Distributions Received from Cooperatives (1099-PATR)
Merchant Card Third Party Network Payments (1099-K)
In a statement Nancy Walters, W2 Mate product manager at Real Business Solutions said, "Our W2 Mate software has some of the best W2 1099 software features in the industry. Regardless of your evaluation criteria you will quickly find out that our software ranks up there. See for yourself by downloading a free demo from http://www.W2Mate.com"
New changes and updates to forms 1099 were introduced by the IRS for 2012. New boxes have been added, some boxes have been removed and others have been renumbered, modified or moved. All these and other 1099 compliance changes are supported by W2 Mate software for the 2012 / 2013 tax season.
W2 Mate is the perfect software program for business filers looking for answers to questions like how to file 2012 1099MISC, how to file 2012 form 1099 MISC electronically, how to file form 1099 with the state of Colorado, how to print 1099-MISC in QuickBooks, how to print 1099MISCs for 2012 using home printer and many other similar questions.
A free 2012 IRS 1099 forms software evaluation can be downloaded from http://www.W2Mate.com. Customers can purchase the software and receive it instantly.
Users of leading accounting software solutions like QuickBooks, Sage Peachtree, Sage 50, Sage MAS 90, Sage MAS 200, Microsoft Dynamics GP /SL, and Sage DacEasy can save a lot of money on 1099-MISC processing by using W2 Mate. W2 Mate 2012, not only ships with powerful data import wizards, it has no limitations on number of filers or recipients.
W2 Mate meets the 2012 / 2013 1099 electronic filing requirements of the Internal Revenue Services and a number of state departments of revenue by proving the ability to generate files in the IRS 1099 electronic filing format. The W2 1099 software also fully supports the EFW2 format for e-filing W2's with the Social Security Administration and states that accept EFW2 submissions.
W2 Mate Software Highlights:
Prepares unlimited number of 2012 1099 and W-2 tax forms for multiple employers and payers.
Prints 2012 1099 recipient copies on regular white paper.
2012 W2 EFile support (Complies with SSA EFW2 format Specifications for Filing Forms W-2 Electronically). 2012 1099 EFile support (Complies with IRS Publication 1220- Specifications for Filing Form 1099 Electronically)
Generates ready-to-email 2012 W-2 forms and 1099 forms. Which eliminates the need to print and email W2s and 1099s.
Government -approved to print W-2 and W3 tax forms on regular paper including federal copies.
Data import from leading tax, accounting and CRM software applications including Microsoft Dynamics (Great Plains), Intuit QuickBooks Payroll (W2s) and vendor (1099s), Sage Peachtree, Sage DacEasy, Excel and CSV.
Efficient and intuitive manual W2 / 1099 data entry.
Supports 1099MISC, 1099K, 1099INT, 1099DIV, 1099R, W2, W3, 1096, 1099S, 1098T, 1098, 1099A, 1099B, 1099C, 1099PATR, 1099OID.
Automatically calculates Social Security and Medicare taxes. For paper filers 1096 and W3 are automatically generated.
Supports Windows 8, Windows 7, Windows Vista, Windows XP, Windows Server 2003, Windows 2000 or Windows 98.
Roll-over of payer and recipient information from year to year.
Password protection and data validation.
Generates printing labels, form totals and recipient lists.
Prompt, courteous and reliable U.S.-based support through phone, chat or e-mail.
Network ready with affordable pricing for multiple seats.
Exports W2s and 1099s to excel.
Meets IRS and SSA regulations.
TIN matching and verification including reports for missing TINs and TIN matching errors.
Supports truncating social security numbers on returns.
Prepares 1099s for a contract workers.
Imports W2 data from EFW2 format.
Includes 2012 form 1099 instructions.
Free 2012 W2 1099 software trial can be downloaded from http://www.realtaxtools.com/. Customers can purchase the software and receive it instantly.
About Real Business Solutions: Established in 2003, Real Business Solutions is an industry leader in providing simple payroll software, 1099 printing and E Filing programs and W2 form software solutions for 2013, 2012, 2011 and before. Real Business Solutions products are used by thousands of businesses, tax professionals, non-profit organization, and government agencies all across America. The Company's mission has been to provide powerful and great value software solutions coupled with high quality customer service.