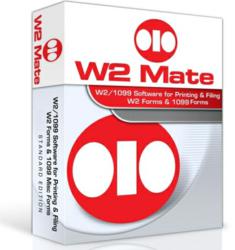 The 2012 version of W2 Mate complies with new IRS regulations, rules and changes related to 1099 retirement forms to be filed in 2012 / 2013 tax season.
Chicago, Illinois (PRWEB) October 16, 2012
1099 and tax software provider Real Business Solutions, Inc. is announcing the release of the 2012 1099-R module for their popular W2 1099 Filing Program- W2 Mate. The new module– now available for immediate download from W2Mate.com – gives accountants, tax professionals, retirement funds and trust companies everything they need for IRS 1099-R reporting in the 2012 / 2013 tax season.
W2 Mate gives users the ability to type, create, review, edit, import, archive, print, email, e-file, export and batch print IRS 1099-R forms and a number of other information returns. 1099-R forms to be sent to recipients can be printed on regular white paper saving filers time and money. The 2012 version of W2 Mate complies with new IRS regulations, rules and changes related to 1099 retirement forms to be filed in 2012 / 2013 tax season.
W2 Mate presents a great alternative to tax professionals, fund companies, Boards of Pension and Health Benefits, CPAs and 1099R preparers looking for a more convenient, simple and affordable way to create IRS 1099 retirement tax forms. W2 Mate 2012 enhances usability and user experience with attractive new features that make W2 1099 filing easy and stress-free. Free 1099-R software trial can be downloaded from W2Mate.com
The 1099-R E-filing module, which ships with W2 Mate prepares an unlimited number of electronic filing submissions which comply with IRS publication 1220. 1099-R electronic reporting is easy to use, efficient, fast, flexible and above all very affordable.
Generally, Form 1099-R (Distributions From Pensions, Annuities, Retirement or Profit-Sharing Plans, IRAs, Insurance Contracts, etc.) needs to be filed for any IRA shareholder who has taken a taxable and/or reportable redemption from his or her IRA. These include but are not limited to normal and premature distributions, excess contributions, conversions and distributions that are re-characterized.
W2 Mate Software highlights:

Prepares unlimited number of W2 and 1099 forms for multiple employers and payers.
Fills in pre-printed 1099 Copy-A forms and prints other copies such as recipient and payer copies on plain paper using black ink.
E-files W2s and 1099s with the SSA and IRS (no limitations on the number of forms or submissions).
Free downloadable updates and free technical support by phone, email and chat.
Creates employee W2's as PDF and recipient (vendor) 1099's as PDF.
Prints government-approved W-2 and W-3 forms on regular white paper (no red-ink form to buy),
Imports data from Intuit QuickBooks (QuickBooks Pro, QuickBooks Enterprise, and QuickBooks Premier), Microsoft Dynamics (GP or SL), Sage Peachtree, Sage DacEasy or CSV/ Excel.
Efficient and intuitive manual W2 / 1099 data entry.
Supports 1099MISC, 1099K, 1099INT, 1099DIV, 1099R, W2, W3, 1096, 1099S, 1098T, 1098, 1099A, 1099B, 1099C, 1099PATR, 1099OID.
Automatically calculates Social Security and Medicare taxes.
Supports Windows 8, Windows 7, Windows Vista, Windows XP, Windows Server 2003, Windows 2000 or Windows 98.
Roll-over of payer and recipient information from year to year.
Password protection and data validation.
Generates printing labels, form totals and recipient lists.
Give W2 Mate software a test drive and see for yourself how easy 1099-R electronic filing and printing can be. Visit http://www.w2mate.com/.