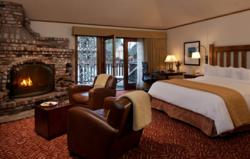 Harvest Inn's hospitality team and its tail wagging mascot, Peanut, offer 'Next Stop Napa Valley,' a finely curated list of top ten reasons to visit Napa Valley this summer.
St. Helena, CA (PRWEB) June 27, 2012
Harvest Inn's hospitality team and its tail wagging mascot, Peanut, offer 'Next Stop Napa Valley,' a finely curated list of top ten reasons to visit this summer. A hidden gem set on eight acres of gardens, with a backyard of grape vines and sunset views over the Mayacamas Mountains, Harvest Inn is centrally located to these 'only in Napa Valley' activities.
Next Stop Napa Valley:
1. The 4th of July Fireworks Spectacular at Louis Martini Winery is sold out – but Harvest Inn offers extraordinary views of this fireworks show set to patriotic music from its comfortable seating on the Inn's lushly landscaped Rose Garden. The Inn's 'Independence Day Blast' package includes two nights in a newly renovated guest room with fireplace, a basket filled with wine country treats and a bottle of local wine –perfect to enjoy during the fireworks show - plus wine tastings for two at two neighboring wineries and more. Available July 3, 4 and 5 and starts at $369 per night plus tax. Reservations: toll-free at 1-800-950-8466 or at http://www.harvestinn.com.
2. July 14 - Robert Mondavi Winery Concert Series starring Five For Fighting, with opening artist Martin Harley – music, wine and food under the stars at this legendary winery. Tickets at (888) 769-5299 and more about the entire concert season at http://www.robertmondavi.com.
3. Throughout the Summer - Napa Valley High is Harvest Inn's new two-night package that includes floating over the gorgeous Valley in a hot air balloon, wine tasting and more. Reservations: (800) 950-8466 or http://www.harvestinn.com.
4. July 13-22 - Festival del Sole blends world–class artistry, gourmet cuisine, fine wines and lifestyle programs in a unique celebration of the art of life, all during a ten–day experience the New York Times calls a "feast for the senses." With events taking place across the Valley, Harvest Inn offers a beautiful home base from which to explore all this exceptional festival has to offer. Performance schedule and tickets at http://www.festivaldelsole.org
5. Throughout the Summer – picnicking and wine tasting at family and dog-friendly V. Sattui Winery. Create a picnic from the winery's well-stocked Marketplace with over 200 artisanal cheeses, charcuterie and locally baked breads and enjoy it on their two acre picnic grounds with expansive grass lawn and beautiful gardens. Peanut has packaged this picnic experience for pooches and pals with an overnight stay at pet-friendly Harvest Inn that includes doggie bed and treats, a 10% discount at St. Helena's pet boutique, Fideaux, and a donation to Napa Humane.
6. First Friday of the month, July – October - Cheers! St. Helena, a giant block party celebrating this charming town's food, wine, restaurants, shops and entertainment, The Party takes place over several blocks with wine and food tasting, retail discounts and a variety of entertainment. Within walking distance from Harvest Inn, it's a great way to meet the locals and learn about off-the-beaten-track wineries, restaurants and must-sees. Tickets at http://www.cheerssthelena.com
7. August 4 – Claws for Celebration – join the Schweiger Family for a traditional lobster feast in their vineyards on Spring Mountain. Tickets at 877-963-4882 or email svwine(at)schweigervineyards(dot)com.
8. August 12 - Music in the Vineyards concert staged on Harvest Inn's picturesque Vineyard terrace overlooking the Leonardini Vineyards. The intimate al fresco concert focuses on three early works of Beethoven and includes a wine reception at intermission, hosted by the Inn. Tickets at Music in the Vineyards.
9. August 25 – 2012 Harvest STOMP- pull on boots and grab a cowboy hat for this harvest party that includes live entertainment, local cuisine, great wines and live auction at Trefethen Family Vineyards. Tickets at http://www.napagrowers.org.
10. Throughout the Summer – St. Helena's al fresco massages in Harvest Inn's outdoor cabana tucked next to the vineyards in the redwood grove. Included in the 'Summer Breeze' package or a la carte starting at $115 for 60 minutes of bliss. Reservations: toll-free at 1-800-950-8466 or at http://www.harvestinn.com.
For the latest events and specials follow Harvest Inn on Facebook and Twitter.
About Napa Valley's Hidden Gem
The newly renovated Harvest Inn is a world-renowned AAA Four Diamond country-style estate located in St. Helena, surrounded by premium wineries and extraordinary dining. Charming brick and wood cottages, guest rooms and suites are spread over eight acres of gorgeously landscaped gardens, making the Inn an ideal setting for a well-deserved, relaxing vacation getaway or intimate honeymoon. The Inn also features two heated swimming pools, well-equipped Fitness Room and massage treatment rooms tucked into the gardens and Redwoods.
All accommodations include breakfast daily, a wealth of amenities including aromatherapy personal care items, large flat screen televisions with DVD players, refrigerator with complimentary waters and juices and coffee/tea maker, high-speed Internet access and more. Most include fireplaces. With stunning vineyard views and the Mayacamas Mountains just beyond, guests long to linger in the warm atmosphere with hand-crafted fireplaces, intricate woodwork and country estate ambience.