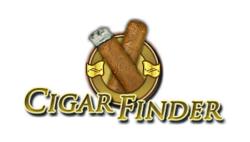 Our goal is simply to connect cigar shops and bars with enthusiasts.
New York, NY (PRWEB) November 18, 2011
CigarFinder LLC, which launched the free navigational app Cigar Finder for iPhone in mid- August, will release both the iPhone update and the Android app towards the end of November.
Both Cigar Finder for Android and the iPhone update will include easier search features, an updated Cigar 101 section and an improved dossier section that helps app users keep track of each cigar experience.
The brainchild of a few "cigar aficionados" who travel frequently for work, Cigar Finder locates merchants based on zip code, city, or a user's location. The app's database consists of about 11,000 cigar shops, retailers and smoking lounges in the U.S. -- currently more than any other cigar-related app on the market. It allows users to store information about individual cigars, bookmark their favorite cigar places, and invite friends to join them.
Like other similar location-based apps, it's also a way for cigar fans and app users to save money at places that offer exclusive discounts to the Cigar Finder community.
"Our goal is simply to connect cigar shops and bars with enthusiasts," said communications director Jaimie Siegle. And because many cigar and tobacco shops don't have a website or social page, the app "makes it easier for a business to get noticed and communicate with our users," she said.
About Cigar Finder
The mission of CigarFinder LLC is to connect and enhance the experience of the cigar community.
To learn more, visit http://CigarFinderApp.com or http://Facebook.com/CigarFinder. More screenshots are available here.
###