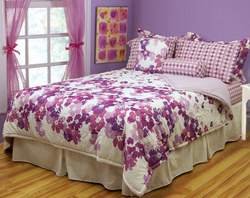 Affordable yet classic kids bedding is what keep our customers coming back time after time.
Memphis, TN (PRWEB) November 29, 2010
A Kid's Bedding Line. Com is proud to announce "Customer Appreciation Days" for the entire month of December. Showcasing a superior quality and diverse product range in children's bedroom décor for 8 years while offering the consumer discounts and savings on all kids bedding decor. It features contemporary lifestyle accessories for the delight of its customers presented through our online catalogue. Customization of conventional color-schemes and trends is done for kids of all ages. A Kid's Bedding Line cherishes the parent-child relationship and it strives to offer the BEST for your beloved young-ones. Upon completing the significant milestone of 8 years, A Kid's Bedding Line.com dedicates its commitment to customer satisfaction through the month of December with our "Customer Appreciation Days" with various specials each day of December. We have discounts on best-seller items featured in:
Girls' Bedding
A Kid's Bedding Line focuses on stylish, yet cost-effective bedding line for the little princesses. Sassy and classy bedding patterns are available in a wide array of colors and themes. You can choose from a wide assortment of traditional themed beddings to make your girl's room look like a fairytale wonderland. The fun and frolic comes from various floral, abstract and digital prints available in our girl's bedding line. The color combination offers a broad range of options for girl's room. A Kid's Bedding Line provides its esteemed customers with bedding styles for teens as well as younger children.
Boys' Bedding
The boys' room can still be fun without idolized posters and minimal accessories. A Kid's Bedding Line helps you to break free from the little-boy-blue shades for your boys' bedding. They can personalize the style statement with macho camouflage prints, suave abstract designs, active sporty patterns and fun comic characters. Bring a happy vibe to the room with a quality assortment in boys bedding!
Baby Bedding & Accessories
The new beloved members of the family can be cordially welcomed through the assortment of traditional and contemporary bedding designs. Parents can conveniently create a little world of joy and colors with bright butterflies, happy animals and floral patterns. Infant crib bedding is not an isolated offering by A Kid's Bedding Line. The company specializes in providing a full ambiance with supplementary accessories like baby bags, blankets and much more!
Kids Room Décor
To complement the theme of kids' bedding, the room décor items for all ages are available through A Kid's Bedding Line. The customers can select from 100s of options to keep their kids' room in vogue. Matching wall appliqué, curtains, blankets, pillows, clocks, hangings, etc. are available for you as complimentary décor to your kids bedding sets. You can choose a bold ensemble of bright colors or minimal sophisticated or serene cozy combination for the décor of your kids' place.
Kids Gift Ideas
A Kid's Bedding Line broadens the horizon of room-shopping by providing special and personalized gifts for the little loved ones. Flamboyant gift items for your kids are available in the form of customized laptop skins that can complement or contrast the persona of kids' room. Other featured gift items can be the jewelry boxes for girls, mod lamp pairs, appealing school bags, and photo frames. Yet again, you can make a choice from the increasing range of items.
Discounts & Sales
A Kid's Bedding Line offers regular discounts and special rebates for its cherished customers. The discount options are updated at intervals and especially for seasonal holidays. Exclusive discount options are available on selected items from all product lines. Committed to deliver the best, the delivery of items is fast and reliable. A long string of customer testimonials extending over 8 years vouch for the urgent & worldwide delivery of all kids bedding items.
Customer Feedback
A Kid's Bedding Line believes in creating, maintaining and strengthening profitable customer relationships. We not only sell "products", but the satisfaction and delight through our sensational offerings. Feedback and communication with our clientele has always been given prime importance through the course of 8 years. Improvement and enhancement of designs & patterns for all bedding accessories are done according to the input from customers. It is the reason why A Kid's Bedding Line has enjoyed its distinguished position in the children's bedding industry. We are committed to bring our customer savings and premium bedding as we celebrate our 8th year online with our "Customer Appreciation Days" for the month of December.
Bring a positive change in your kid's experiences and help him/her attain comfort with chic style with A Kid's Bedding Line!
Contact Person: Janine Taylor, Sales & Marketing
Company Name: A Kids Bedding Line
Telephone Number:(901) 438-0241
Web site address: http://www.akidsbeddingline.com
# # #