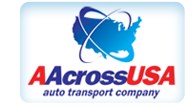 Auto transport company AAcrossUSA is proud to announce that they have recently received an A+ rating from the Better Business Bereau – making them the number one choice in car transport companies.
Jacksonville, FL (PRWEB) December 02, 2013
AAcrossUSA has recently received an A+ rating from the Better Business Bureau for their outstanding service in car shipping. The company, a nationwide leader in vehicle transport services, has been very successful in their 22-year history. This new accolade provides AAcrossUSA with another distinction that places them further above their competitors as one of the few car transportation companies with such a high rating.
Companies that obtain high grades with the Better Business Bureau tend to offer higher quality service with higher customer satisfaction. An A+ grade is the highest possible score for vehicle transport companies or any other type of American business. AAcrossUSA has proven themselves to be the premiere car shipping company available with this new distinction, as prove2n through their timely response to their few customer issues.
AAcrossUSA offers auto-shipping services anywhere within the continental United States and Hawaii. They ship cars, trucks, SUVs or any other motorized vehicle. The company works with over one thousand carriers in order to find the best combination of price and service for each customer AAcrossUSA prides themselves on being a top auto shipping company and assures satisfaction for all of their customers.
AAcrossUSA has been a successful car shipping firm for many years, since opening their doors in 1991. The company has always held customer service as their highest priority, which has led them to much success over the past 22 years Among other services, the company offers free quotes via the company web site so that potential customers can gain a sense of what the price may be for their services, based on the customer's vehicle and required time frame for shipping.
AAcrossUSA has proven themselves as a top-level auto shipping service with the A+ rating. Few other vehicle transport companies hold a rating that high with the Better Business Bureau. The company believes this rating will only improve business and make them more determined to keep the quality of service that led them to receive the award.
To learn more about AAcrossUSA or how to take advantage of their auto shipping services, visit the company web site at http://www.AAcrossUSA.com.