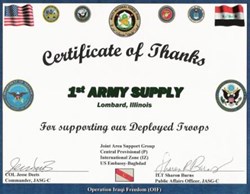 1st Army Military supply store is now offering NTOA approved gear online at https://www.1starmy.com.
Lombard, IL (PRWEB) December 26, 2013
1st Army Supply, a leader in military army surplus supplies, is now offering equipment and supplies that have been approved by the National Tactical Officers Association (NTOA). The NTOA approval for these products is very prestigious and guarantees a high quality of product. 1st Army Supply has been known for a very long time for their highly durable and quality tested products, and the new approved products are no exception.
The National Tactical Officers Association is an organization that allows companies to have their products and gear tested in the field and under the harsh circumstances they are meant to handle. If a product receives a rating of 3.0 or higher, it will be considered NTOA approved and will be considered tested and recommended by the organization. High quality products can fail to obtain the 3.0 rating, but only the best gear will receive the NTOA's approval.
1st Army Supply is now selling a wide selection of vests, pouches and backpacks that have been NTOA approved. One of the more popular products is the CONDOR line of modular operator plate carriers. Each is equipped with ballistic plates that are easily accessible and comes in three different styles. All of the vests are NTOA tested and recommended.
The company also has many backpack and 3 day survival kits available that have also been NTOA approved. Each pack is equipped with multiple water pockets, food holders and weight bearing straps. The packs are meant to allow for 3 days worth of supplies and have been tested in the field many times over with great success.
1st Army Supply prides itself on delivering quality military army surplus to the general public. Much of the time, equipment of this caliber is reserved only for the military or police forces. 1st Army Supply has always been a leader in working with these organizations to bring the military surplus supplies to the public at great prices.
Starting in the 1980's, 1st Army Supply quickly became a popular store in Illinois, gaining many customers from many neighboring states. The company later opened a web store with over 8000 items as well. Today, those interested in military army surplus supplies worldwide can find what they need from 1st Army Supply.
For more information on 1st Army supply or their NTOA approved products, visit their official web site at http://www.1starmy.com.