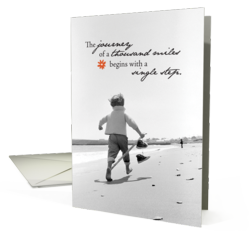 "Breaking old habits is hard," says Rosso-Gaemi. "Recovering addicts need support to stay focused on their goal, stay positive, and stick with it while they recover."
San Francisco, CA (PRWEB) January 08, 2013
Greeting Card Universe, the world's largest greeting card store, announces its popular collection of 2,653 original and uncommon greeting cards for Addiction Recovery and Recovery Encouragement.
"In the days leading up to our New Year's celebrations, and the time just afterward," says Mindy Rosso-Gaemi, Community Manager at Greeting Card Universe, "we often make resolutions to better ourselves: lose weight, be more organized, spend more time with family. However, some resolutions are more serious and can have a significant impact on our lives, like the decision to stop abusing cigarettes, alcohol, or drugs."
Almost fifty percent of Americans make a New Year's resolution, most frequently focusing on self-improvement. Aside from vowing to lose weight by going on a diet or exercising more, two of the most common are quitting smoking and quitting drinking. Many will publically declare their resolutions in an effort to be more accountable and tweet on Twitter or post their progress on Facebook or other social media sites.
"Breaking old habits is hard," says Rosso-Gaemi. "Recovering addicts need support to stay focused on their goal, stay positive, and stick with it while they recover. If someone you love is resolved to heal an addiction, let them know you're with them every step of the way by sending greeting cards that offer tangible encouragement."
Greeting Card Universe's online collection of hard to find 12 Step Addiction Recovery cards makes it simple and convenient to send a special card of encouragement to a friend or loved one battling an addiction. Or even deliver a shot in the arm to anyone who's made a New Year's resolution. Making the message even more personal, shoppers can personalize the inside of all cards at Greeting Card Universe with their own text and photo.
"Adding a personal touch couldn't be easier while enjoying the ease of ordering online. Custom greeting cards can also be created within 48 hours at no additional cost by requesting changes or a totally new design from our artist community of over 5,600 freelance artists from around the world," says Rosso-Gaemi. "And you can order online and pick up your cards - usually within 1 hour - from most Target stores across the country."
Greeting Card Universe's traditional and niche offerings of over 580,000 cards gives nod to the importance of choice and personalization in today's marketplace and stays true to its tagline "any card imaginable."
About Greeting Card Universe
Greeting Card Universe (http://www.greetingcarduniverse.com) is a division of BigDates Solutions, a private company that provides consumers with unique, personalized services for any holiday or occasion. Greeting Card Universe is the world's largest paper greeting card store, offering an unlimited selection of custom greeting cards, birthday greeting cards, photo cards, invitations, and note cards. BigDates Solutions is the leading provider of Online Reminder Service Solutions, powering gift-reminder services, including 1800Flowers.com and FTD.com. The company is also the owner of Birthday Calendar, a Facebook application with over 43 million installs. Explore more uncommon holidays and occasions on the Greeting Card Universe BLOG.