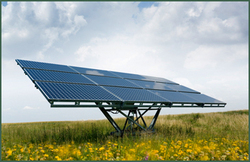 The Virtual Energy Forum provides an ideal opportunity and venue for energy leaders to meet and share ideas in a sustainable way, across time zones and geography.
Boston, MA (PRWEB) December 1, 2008
The U.S. Department of Energy and the Virtual Energy Forum, the world's premier online event for private and public sector energy executives, unveiled plans to showcase internationally-known experts and city leaders at the upcoming Virtual Energy Forum event on December 10th and 11th, 2008. The presentations and live sessions will focus on the implementation of energy efficient best practices and renewable energy solutions in some of the world's largest metropolitan cities.
"The Department of Energy has been actively involved in facilitating energy management best practices across the globe. Conserving energy and investing in clean technology is critical for us as a world community," said Mark Ginsberg, Senior Advisor to the Secretary of Energy and Board Member of the U.S. Department of Energy's Office of Energy Efficiency and Renewable Energy. "The Virtual Energy Forum provides an ideal opportunity and venue for energy leaders to meet and share ideas in a sustainable way, across time zones and geography."
The Virtual Energy Forum is an online-only event focused on how leading companies can implement better energy management practices to cut cost and adopt clean energy alternatives. Over 5,000 attendees, speakers and exhibitors from around the world come to this online-only event to meet, interact, and learn about alternative energy solutions, clean technologies, sustainability, energy monitoring and green buildings. Registration is free for the Virtual Energy Forum. To register now or to view video coverage of the June 2008 Virtual Energy Forum by CNN's The Situation Room with Wolf Blitzer, visit http://www.virtualenergyforum.com.
The U.S. Department of Energy's global cities track will feature the following energy leaders:

City of New York - Jim Gallagher, Senior VP of Energy
Delhi, India - J.K. Dadoo, Principal Secretary, Department of Environment, Forest and Wild Life, Government of National Capital Territory of Delhi
City of Atlanta - Mandy Schmitt, Director of Sustainability
Ahmedabad, India - Captain Dilipkumar J. Mahajan, Deputy Commissioner, Ahmedabad Municipal Corporation
Chicago-Shanghai Energy Partnership - William A. Spence, Co-chairman of the Chicago-Shanghai Sister Cities Committee and Senior Counsel of the Freeborn and Peters and Chairman of the China Practice Group
City of Los Angeles - Romel Pascual, Associate Director for Energy and Environment (Confirmation Pending)
Stockholm, Sweden - Ulla Hamilton, Vice Mayor, Environmental and Real Estate
"We are honored that the DOE has joined with us to create this important group of sessions," said Robert Rosenbloom, CEO of PlatformQ the producer of the event. "Energy use in major metropolitan cities is a critical challenge today, and we are fortunate to have an all-star lineup of international city energy leaders present their ground-breaking innovations and strategies."
One-third of the audience comes from outside the US, from over 100 countries. The Virtual Energy Forum is truly unique because it is a "sustainable" event in and of itself. It connects people across borders with no carbon footprint. According to the Virtual Energy Forum calculation, the last event in June 2008 saved over 12 million pounds of CO2 in air, hotel, and transportation emissions.
In addition to the DOE Global Cities track, The Virtual Energy Forum will also feature over 40 hours of live video webcasts - with real-time questions-and-answers -- other corporate energy leaders and public policy experts who will present in the form of live video webcasts with real-time Q&A from a global audience. Additional speakers include:
Joseph Kelliher, Chairman of the US Federal Energy Regulatory Commission
Jim Rogers, Chief Executive Officer, Duke Energy (NYSE: DUK)
David Manning, EVP and Chief Environmental Officer, National Grid (NYSE: NGG)
Mike Kearney, Sr. Director, Energy & Environmental Solutions Siemens Building Technologies (NYSE: SI)
James (Jim) Gallagher, Senior VP of Energy & Telecommunications, City of New York
Bob Langert, Vice President of Corporate Social Responsibility, McDonalds (NYSE: MCD)
Mark Buckley, Vice President, Environmental Affairs, Staples, Inc. (NASDAQ: SPLS)
Kevin Billings, Assistant Secretary for the Air Force for Installations, Environment and Logistics
Mary Ellen Mika, Manager, Energy and Environment, Supply Chain, SteelCase, Inc.(NYSE: SCS)
US Congressman Ed Markey, Chairman, House Select Committee on Energy Independence
Mark Ginsberg, Senior Advisor to the Assistant Secretary of Energy, Senior Director, Energy Efficiency and Renewable Energy (EERE) Board of Directors
Kathleen Hogan, Program Director, Climate Protection Partnerships Division, US EPA
Randy Swisher, Executive Director, American Wind Energy Association (AWEA)
Thomas Downing, Energy Manager, Yale University
Julia Hamm, Executive Director, Solar Electric Power Association (SEPA)
Robert Colucci, Senior Director , Global Energy Planning and Management, Merck(NYSE: MRK)
Philip V. Adams, President and Chief Operating Officer, World Energy
Nick d'Arbeloff, Executive Director, New England Clean Energy Council
Sarah Hetznecker, Director of Project Development, Conergy
Doug Kaempf, Program Manager, Industrial Technologies Program, US Department of Energy
Kevin Kampschroer, Acting Director of High-Performance Green Buildings, US General Services Administration
John Schultz, Vice President of Business Development, Hess Energy (NYSE: HESS)
David Myers, President of Building Efficiency, Johnson Controls (NYSE: JCI)
Brian Dutt, Vice President of Sales and Marketing, Delta Controls
Brian Palm, Science Department Head, Brooks School
Matthew Moore, Director of Rooms and Environmental Programs, Seaport Hotel
Mark Rodgers, Communications Director, Cape Wind, Inc.
Ali Sahabi, President, SE Corporation
Pat Stanton, Vice President, Conservations Services Group, Inc.
Bill Wong, Assistant Vice President, Renewable Energy and Climate Change Program, SAIC, Inc.
Roland Risser, Director for Customer Energy Efficiency, Pacific Gas and Electric (NYSE: PCG)
Keith McCoy, Vice President, Energy Resources and Policy, National Association of Manufacturers
About Virtual Energy Forum
The Virtual Energy Forum, http://www.VirtualEnergyForum.com, is an online conference that provides an unparalleled opportunity for public and private sector executives from around the world to learn, meet and interact on topics such as sustainable energy management, alternative energy, clean technologies, green buildings and operations.
Virtual Energy Forum provides a greener way to gather™ with live video presentations by energy experts and an ability to have questions answered in real-time, and an opportunity to browse virtual booths with the latest innovations in energy products and services, all from the ease of a personal computer with no carbon footprint.
Virtual Energy Forum is produced by PlatformQ, whose mission is to connect people, companies, organizations and associations worldwide, who might not otherwise be able to travel to physical events or communicate with leading experts and thought leaders, through proven interactive tools at online events.
Virtual Energy Forum and PlatformQ are trademarks of PlatformQ, LLC. All other trademarks or service marks are property of their respective owners.
###