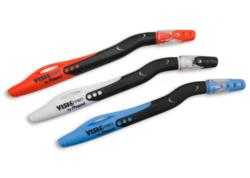 San Francisco, CA (PRWEB) February 29, 2012
thelefthandstore.com is proud to introduce the new Visio Left-Handed ballpoint pen, a radical new design in ballpoint pen form. Left-handers the world over have a hard time learning to write, especially in those cultures where writing goes from left to right. Lefties can't see what they're writing because the left hand obscures the writing line, unless they use a "hooked" position, which results in poor posture and hand pain. The new Visio pen's swan neck design permits lefties to write correctly while seeing what they write, and without smudging as the hand moves along behind the writing. For many lefties, their first use of the Visio pen is the first time they've ever actually seen what they're writing.
With its soft indented grip engineered for the left hand, the Visio pen's hooked neck design keeps the fingers farther down the pen's shaft than on a traditional pen, permitting a view of the writing line as well as holding the hand below the writing line to prevent smudging. The pen's soft ballpoint tip and Swiss quick drying ink help the lefty writer to write smoothly and easily while minimizing the possibility of smudging.
The Visio pen manufacturer, Maped, is a highly regarded French company known for its excellent line of products for school age kids. In the course of their research and development, Maped reviewed statistics for handedness in French elementary and middle schools. They found that left-handedness is on the rise, with the percentage of lefties averaging 25-30% among French 6-12 year olds. Maped developed the Visio pens to address the needs of almost a third of French students as they developed their hand-writing skills. Visio pens are large enough for adults, yet also suitable for kids in the 6-12 year old range.
The hooked neck pen design was pioneered in Taiwan by an industrial designer whose twin daughters were born with cerebral palsy. Because he knew learning to write was a key developmental milestone critical to a child's aquisition of many other skills, he determined to design a pen that would work well for people with limited hand coordination. The pen he designed, named the Yoropen after his two daughters (Yoyo and Roro), had a hooked neck and a grip which rotated for left or right handed positions.
The Yoropen was the top selling left-handed item at Lefty's stores as well as on thelefthandstore.com. The Yoropen ceased production in 2011, leaving lefties of the world without a hooked neck pen. Fortunately, Maped had already engineered the Visio pen, and was about to release it, so the drought in hooked neck pens was short.
Lefty's carries several other pens for left-handers. The very popular Jetstream gel pens have a copious supply of smooth, quick drying ink, and are especially good for drawing. The chunky Stabilos, developed by a German company specializing in school products, come in fun colors, and are easy to grip due to their thick body. The elegant ceramic tipped Kyocera pens, made in several colors of aluminum, also have quick drying ink. Left-handed fountain pens have their points cut at the opposite angle for lefties, and are common in Europe where school kids are required to learn to use them.
But only the hooked neck pens completely solve the lefty's classic problem with getting a clear view of the writing line and preventing the hand from traveling over what's just been written. The Visio pens have been in Lefty's stores in Pier 39, San Francisco, the Marketplace at Downtown Disney, Walt Disney World Resorts, in Orlando, and in Old Town Kissimmee, FL, for just a few days, and they are selling like crazy. When they were introduced on thelefthandstore.com on Monday, February 27, orders increase 5-fold. With its remarkable design, the Visio pen is changing the ways that lefties think about writing.
###