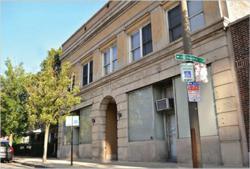 Evanston, IL (PRWEB) November 21, 2012
Edward Schwartz, President of Fara Commercial Brokerage, has announced that Fara has been appointed the exclusive sales agent for the 8,400 square foot commercial building located at 1229 W. Emerson Street in Evanston, Illinois. Originally constructed in 1929 as the Mount Moriah Masonic Temple, the building has been used in recent years as the offices for CEDA Neighbors at Work, which moved to a new space in 2012, as well as the Evanston branch of the NAACP.
1229 Emerson Street is located in an Evanston C2 Zoning district, which permits a wide variety of commercial real estate uses including retail, restaurants, office space, educational and religious uses. Alan Goldberg, Senior Commercial Advisor at Fara Commercial Brokerage, says, "This property is a special development opportunity. Located at Green Bay Road, Emerson Street and Ridge Road, 1229 Emerson Street is close to both downtown Evanston and Northwestern University. The second floor features a large, clear span meeting hall with 12' ceilings, a herringbone hardwood floor and antique, ornamental light fixtures." A 2,500 square foot parking lot is located in the rear of the property. 
The historic two story building was designed by Walter Thomas Bailey (1882 – 1941), an African-American architect from Kewaunee, Illinois. Mr. Bailey, known for building theaters and Masonic Temples, was the first African-American graduate with a Bachelor of Science degree in architectural engineering from the University of Illinois at Urbana-Champaign.
A specialty commercial real estate firm based in Evanston, IL, Fara Commercial Brokerage serves the commercial real estate business advisory needs of Chicago's North Shore and surrounding metro area.
Fara provides commercial real estate brokerage services and advice to enable middle-market investors and owners to make sound business decisions. Our client centered, service based approach encompasses all facets of commercial real estate business advisory services, including family trusts, agency representation and acquisitions and sales.
For additional information, contact Al Goldberg at Fara Commercial Brokerage at 847-570-0649 or via email at alan(at)farabrokerage(dot)com.